China Rout Puts Brakes on Share Sales as Firms Favor Bonds
(Bloomberg) -- A weak stock market and intensifying regulatory scrutiny mean Chinese firms are increasingly turning to the debt market for cash.
Share sales in Shanghai and Shenzhen have dwindled to the lowest since 2014, while short-term bond issuance is on track for its second-biggest year in a decade. Companies have raised $40 billion from equity markets since January, down 35 percent from the same period last year, according to data compiled by Bloomberg excluding initial public offerings. One-year bond sales are already up 18 percent from 2017's total.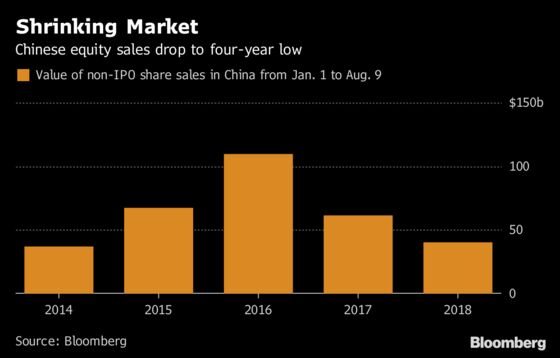 With Chinese stocks heading for their worst year since 2011 and regulatory conditions tightening, the bond market is presenting new appeal for companies including Bank of Nanjing Co. The firm, which didn't get approval for a stock sale, was allowed to issue debt and raised 8 billion yuan ($1.2 billion) in the first phase of its issuance last month.
"Share sales may improve if the stock market rebounds, but we're unlikely to see a major volume pickup due to the regulatory environment," said Fei Xiaoping, an analyst at Dongguan Securities Co.
Like Bank of Nanjing, companies that are struggling to sell stock are increasingly looking into debt financing, according to Yang Hai, an analyst at Kaiyuan Securities. As China's central bank boosted liquidity and lowered funding costs, one-year bond issuance for firms listed in Shanghai and Shenzhen has climbed to 1.02 trillion yuan this year through Thursday, data compiled by Bloomberg show.
The China Securities Regulatory Commission has gone to great lengths to scrutinize some share-sale plans and has already turned down at least seven proposals this year.
Shenyang Cuihua Gold and Silver Jewelry Co. gave up this month after revising its pitch twice and still failing to satisfy the regulator. The CSRC's 11 detailed questions for the 295 million yuan deal included queries on the company's cash, receivables, proposed use of proceeds and actual use of proceeds from its 2014 IPO, according to a May 9 filing.
At the same time, choppy markets mean that investors may be hesitant to commit to holding shares for the required lockup period of at least 12 months, prompting some companies to rethink their plans. The Shanghai Composite Index, which has fallen 15 percent this year, edged up 0.2 percent on Friday to 2,801 points.
Focused Photonics Hangzhou Inc., which got CSRC approval for a stock sale in August 2017, failed to complete it within six months as required, because of "changes in market environment," the developer of systems to monitor environmental changes said in a Feb. 12 filing. By then, its shares had plunged 35 percent from a January high.
The dwindling equity sales will have longer-term repercussions for Chinese companies, according to Nie Wen, an economist at Huabao Trust Co.
"A slowdown in share sales is putting pressure on many private-sector companies," he said from Shanghai. "Funding shortage hurts their profitability and limits their expansion through mergers and acquisitions."