Trade Spat and Buybacks Proving No Big Hurdle to Capex Recovery
(Bloomberg) -- Turns out the white-knuckle dispute over global trade has done little to hurt corporate America's confidence in capital spending.
Among S&P 500 companies that have reported second-quarter results, combined expenditures on fixed investments jumped 24 percent, the fastest rate in seven years, data compiled by Bank of America Corp. showed. While tech and energy producers contributed the most, the expansion was widespread, with companies posting a median 13 percent increase.
Chief financial officers are showing no sign of slowing down. In July, two companies forecast higher capex than analyst expected for each that provided lower guidance. While it may still be too early for final conclusions, the data suggest President Donald Trump's exchange of tariffs with China and Europe hasn't hindered companies' willingness to keep spending, something that's seen key for a sustained economic expansion.
The data also tends to belie prophesies that rampant share repurchases would scotch capital investment. S&P 500 companies are on track to announce $1 trillion worth of buybacks in 2018, Goldman Sachs Group Inc. data shows.
Not everyone came out fine in a quarter clouded by the risk of a global trade war. In fact, companies from Harley-Davidson Inc. to Cummins Inc. lowered their earnings forecasts, citing tariffs. Still, the damage was less than feared, at least going by the publicly traded companies.
"Most have indicated limited to no impact from trade, or too early to tell," BofA strategists led by Savita Subramanian wrote in a note. "Management continues to guide above consensus on planned capex," they said. "Capex recovery still on track."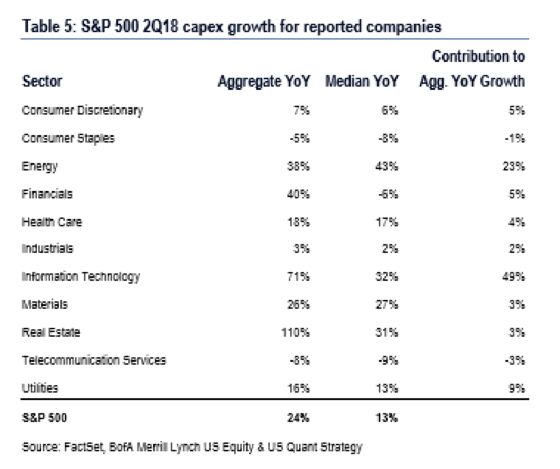 Companies are tapping near-record cash hoardings for building factories and upgrading equipment as President Trump's tax bill allowed faster appreciations of fixed investments. The rate of increase was in line with their profit growth after lagging behind in the first quarter.
At the same time, companies are doling out money to shareholders at a faster pace. At 57 percent, the growth pace of share buybacks was more than double that of capex, data compiled by S&P Dow Jones Indices showed.
The preference may be just what investors want. While shares of companies that spend most on capital expenses relative to market value have performed in line with the market this year, they're trailing those with the highest layouts on repurchases and dividends by more than 2 percentage points, according to data compiled by Goldman Sachs Group Inc. and Bloomberg.
One risk that higher investment spending poses to companies is their profit margin, according to Gina Martin Adams, chief equity strategist at Bloomberg Intelligence. That, along with rising wages and commodity costs, is likely to impede firms' ability to translate top line growth to the bottom line, she said.
"Revenue-growth forecasts continue to rise for the index, but so too are investment-spending projections, which are starting to eat away at operating-margin estimates," Adams wrote in a note last week. Margins are "wrong-footed by spending plans," she said.