Short Sellers Are Getting Torched for Billions: Taking Stock
(Bloomberg) -- Stock futures are flattish on a breather of a night for market news, helped by the fact that it's been ~16 hours since the last tweet from Tesla CEO Elon Musk.
The tape appears to be taking the latest wrinkle in the trade war in stride -- U.S. to impose 25% duties on added $16 billion in Chinese imports in two weeks -- as well as Trump's comments that he'll make an announcement next week that would slash drug prices "really, really substantially."
The S&P 500 has climbed five of the last six sessions, above ~2,850 that some had been pointing to as a potential level of near-term resistance, and we're now only ~15 handles away from testing the closing record from late January.
Short sellers have hit a rough patch as of late. Some have been holding on to their long-term bets for dear life in the hopes that the bull market will finally roll over (that's looking a bit iffy as we keep inching towards a new record on the S&P 500), some took the recent struggles in large-cap tech as a signal to take new bearish positions (also looking iffy as tech has broadly had a V-shaped recovery since Apple's earnings), while others have just been straight-up torched by the likes of Tesla, Hertz, AMD, and so on.
A whirlwind of single-stock volatility was expected to net gigantic gains or losses for hedge funds yesterday, but the bonanza started early with the Tesla tornado that touched down across trading pads yesterday and wreaked havoc for the shorts who got burned for the second time in two months -- Almost $800 million of potential losses were racked up just yesterday after the "funding secured" tweet by Musk, who called Tesla "the most shorted stock in the history of the stock market" in a blog post later in the day.
The swings continued after the closing bell with a deluge of earnings for names that have elevated short interest and/or hefty ownership from the fast money types:
The pops: Applied Optoelectronics +25%, 3D Systems +17%, Hortonworks +14%, Match Group +12%, Alarm.com +12%, Shutterfly +9%
The drops: Beacon Roofing -18%, Hostess Brands -16%, Papa John's -10%
The jury is still out: Snap initially surged more than 13% after its results last night, but has since pared its gain to just 1%
Who's next: Roku, Tivo, Yelp, ADT, Jack in the Box will all report tonight
If you didn't get your fill on all-things Tesla, you can a) see a recap of yesterday's TOP Live blog here, b) scroll through Tesla's company news page for hours of enjoyment, c) check Tesla mentions on our Twitter feed, which has been lighting up ever since Musk's going private tweet, d) read a QuickTake on whether that tweet violated SEC rules, or e) read some fresh takes below as the world continues to digest Musk's tweetstorm:
The Bull: Baird analyst Ben Kallo expects the outperform-rated stock to trade above Musk's $420 mark as investors demand a larger premium, "which could coincide with some short covering"
The Uber-Bull: New Street Research analyst Pierre Ferragu, who has the highest price target out there at $530, says the most likely outcome is that the attempt to take Tesla private fails, but leaves the company in a strong position to raise equity
The Bear: Cowen analyst Jeffrey Osborne, who rates the stock at an underperform, says an LBO wouldn't work if existing investors were to remain, as Musk claims they will
The Skeptic: Morgan Stanley analyst Adam Jonas, at one point one of Tesla's biggest cheerleaders, is questioning the "extremely aggressive" LBO math that gets Musk to $420 and also the thought process behind Musk's statement: "If Tesla's CEO really wanted to go private… why announce it to the world in this way… which could significantly contribute to the required premium and financial leverage?"
The Oddsmakers: Loup Ventures' Gene Munster sees a 1 in 3 chance that Musk can "actually pull this off and bring Tesla private," though notes the premium may not be high enough to incentivize existing holders to support the sale
The Long: Outspoken Tesla shareholder Ross Gerber, CEO of Gerber Kawasaki Wealth & Investment Management, tweeted: "There is no way Tesla shareholders are selling at $420 so The Saudis aren't getting [sic] my stock for less than $571. No way."
The Short: Kynikos founder Jim Chanos, one of the most vocal Tesla short sellers, told CNBC: "The short position is the best thing the stock has going for it. 'Musk vs The Shorts' is a far better narrative than 'Tesla vs Mercedes/Audi/Porsche'"
The Conspiracy Theorist: Seabreeze Partners founder Doug Kass tweeted these three bullets: 1) Musk recently bought stock in the open market, 2) a stock price above $359 allows Tesla to convert some bonds into equity, 3) "Questionable actg. SEC comes a knocking soon"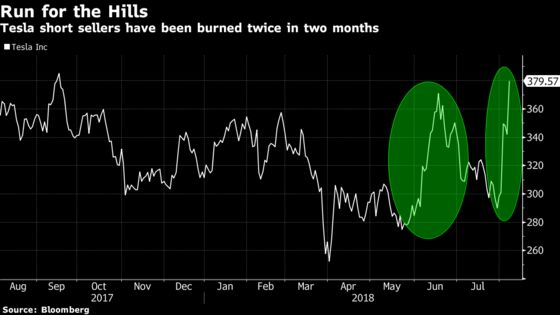 Morgan Stanley says Southwest Airlines would be a good strategic fit for Berkshire Hathaway: "Based on history, there could be 20-40% upside in LUV shares, while for BRK we see 7-8% potential EPS accretion and 6-7% cash return."
BofAML is downgrading Kennametal to an underperform in the context of a broader call to fade rallies in the machinery space and due to growth that is poised to decelerate; the analyst upgrades Timken on the flip side after rating that stock at an underperform.
Deutsche Bank takes its sell rating off of Dean Foods after Tuesday's 15% plunge and with the downside thesis now "playing out."
Tick-by-Tick Guide to Today's Actionable Events
Today -- TRCO walk date for SBGI deal
Today -- MYL to give updates on status of generic of ALlergan's Restasis
Today -- PRTK's omadacycline faces FDA committee meeting
7:00am -- CARS, GOGO, FI earnings
7:30am -- SBGI, MYL (roughly), SO earnings
8:00am -- KDP (roughly), LITE, CHH earnings
8:00am -- GM at JPMorgan Auto Conference
8:30am -- CVS earnings call
8:45am -- Richmond Fed President Barkin speaks
9:00am -- SBGI earnings call
9:20am -- BA at Jefferies Global Industrials Conference
10:00am -- FRPT investor day
10:00am -- CMI at Jefferies Global Industrials Conference
10:30am -- DoE oil inventories
10:30am -- SHOP at Canaccord Genuity Growth Conference
11:20am -- MMM at Jefferies Global Industrials Conference
11:30am -- W at Canaccord Genuity Growth Conference
12:00pm -- INTC hosts data-centric innovation summit
12:30pm -- F at JPMorgan Auto Conference
1:15pm -- COST monthly sales
4:00pm -- FOXA, BKNG earnings
4:00pm -- BEN monthly sales
4:01pm -- NUAN, MELI, EQIX, SRPT, FANG, VNOM earnings
4:05pm -- YELP, AZPN, MNST, ELF, JACK, GDOT, ACAD earnings
4:10pm -- ROKU (roughly), FLS (roughly), NKTR earnings
4:15pm -- IAC (roughly), TIVO, CTL, DNB, CXW earnings
4:20pm -- OXY (roughly) earnings
4:30pm -- FOXA, AVT, ETE/ETP earnings call
5:00pm -- LBTYA, MUR (roughly) earnings
5:00pm -- ROKU, TIVO, YELP, MNST, ADT earnings call
6:00pm -- NTES earnings
9:30pm -- China CPI/PPI
Tonight -- IPOs to price: Mesa Air (MESA), Amalgamated Bank (AMAL), Vaccinex (VCNX)