Russia ETFs See Heavy Trading Amid New Sanctions
(Bloomberg) -- Trading volume in the largest exchange-traded funds tracking Russian equities soared Wednesday, after the publication of a U.S. bill that would impose "crushing sanctions" on Russia over the use of a chemical nerve agent in the U.K.
The $1.7 billion VanEck Vectors Russia ETF, or RSX, saw 21.3 million shares worth just over $441 million trade on Wednesday. That's the most since April and just over double the average daily volume for the past year. The $447 million iShares MSCI Russia Capped ETF, or ERUS, saw $21.7 million worth of trades, 1.5 times the average daily turnover for the past year.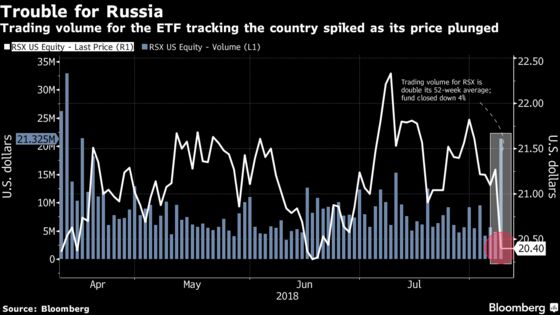 The U.S. has determined Russia broke international law when it used the "Novichok" nerve agent in an attempt to assassinate U.K. citizen Sergei Skripal and his daughter Yulia Skripal, according to a State Department statement. Sanctions are set to take effect on or around Aug. 22.
The Van Eck ETF ended down 4.1 percent, while the iShares fund lost 4.2 percent, the most since April 9 for both.