Prudential Asia Profit Rose as Ping An Said to Mull Bid for Unit
(Bloomberg) -- Prudential Plc's focus on Asia is paying off and its business in the region is drawing interest from competitors.
The largest U.K.-listed insurer reported that first-half profit from its Asian operations soared 14 percent to 1.02 billion pounds ($1.3 billion) on a constant exchange rate basis, ahead of a spinoff that would separate its U.K. operations from faster-growing markets elsewhere.
Ping An Insurance (Group) Co. has evaluated acquiring Prudential Plc's Asia business and has sounded out the Chinese government about whether it would be supportive of a deal, Bloomberg News reported earlier on Wednesday. Chief Executive Officer Mike Wells has previously announced plans to split the insurer into two businesses to take greater advantage of potential growth in Asia, which generates about a third of its earnings and where new demand for insurance is strongest.
The insurer hopes it can roll out retirement solutions it developed in the U.S. to Asia as the population there ages. The firm said in a statement on Wednesday that the demerger of M&G Prudential, its U.K. asset management and retirement unit, is on track.
Click here to read more about Ping An weighing an offer for Prudential's Asia unit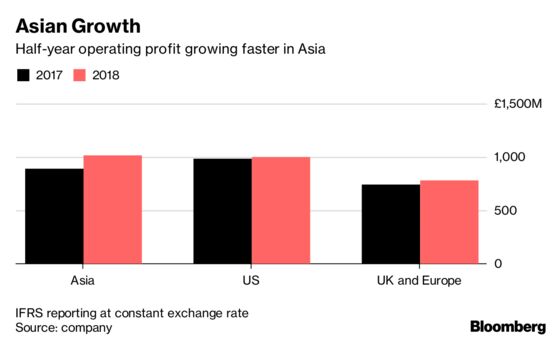 Wells said in a Bloomberg TV interview on Wednesday that he is bullish on Asia and sees the opportunity to grow the asset-management business in the region. The firm posted a double-digit increase in new business profit in the region and rising average assets at its asset manager Eastspring.
Prudential shares rose as much as 4.4 percent in London, the most in four months, on news of Ping An's interest.
The demerger is unlikely to happen before Prudential completes its sale of 12 billion pounds of annuities to Rothesay Life. After that process is completed, both Prudential and M&G Prudential are likely to be included in the benchmark FTSE 100 Index of the U.K.'s biggest companies.
Other highlights from Prudential's earnings:
Operating profit was 2.41 billion pounds in the first half, beating the average estimate of 2.24 billion pounds from four analysts surveyed by Bloomberg.
The M&G unit saw inflows of 3.5 billion pounds in the first half, while PruFund new inflows were 4.4 billion.
Eastspring reported net outflows 0.9 billion pounds as modest retail inflows were more than offset by higher redemptions in institutional fixed income products. The firm said average assets under management at the unit rose to 139.5 billion pounds in the first half, from 124.9 billion pounds in the year-earlier period.