Magic Leap (Finally) Starts Selling Some Hardware
(Bloomberg) -- Magic Leap is now officially a company that sells gadgets. After seven years of secretive work, about $2.3 billion in investment, and audacious promises to deliver technology rivaling television or the telephone in societal impact, the Florida-based startup began taking pre-orders for headsets Wednesday. 
Magic Leap's product is designed to give users the illusion that fantastical, three-dimensional digital objects exist in the physical world. The headsets cost $2,295 apiece. Each system, called the Magic Leap One, consists of a set of bulky goggles packed with sensors, a hip pack with the processing power of a powerful notebook computer, and a motion-sensing hand controller. According to the company, the battery will hold a charge through about three hours of continuous use. While it doesn't require users to be tethered to a computer through a cord, it is designed to work only indoors. 
The headsets will initially be available in six cities: Chicago, Los Angeles, Miami, New York, San Francisco and Seattle. People who purchase one will then get a home visit from a concierge who will conduct a 30- to 60-minute unboxing and set-up ceremony. The delivery service is being operated by Enjoy Technology Inc., a company run by Ron Johnson, the former Apple executive responsible for the Apple store concept. 
Rony Abovitz, Magic Leap's founder and chief executive officer, declined to say how many headsets the company hoped to distribute this year, but it's pretty clear what the answer is—not many. "This is a controlled marketplace," said Abovitz, who described the product release primarily as a learning experience for his young company. "The term I use internally is 'learning to swim'," he said. 
In an interview with Bloomberg News, Abovitz alternately described Magic Leap as an airplane with its seat-belt light on as it ascends through clouds, and as a guitar manufacturer hoping musicians will use its instruments to make rock 'n' roll. "We are going to slowly ramp up based on learning," he said. Such modest talk is uncharacteristic for Abovitz, who has regularly cast spacial computing, his preferred term for a technology also known as mixed reality or augmented reality, as a societal revolution in the making. 
In the short term, the measure of success for Magic Leap won't be the number of headsets it moves, but whether it can convince developers to make applications for its platform. It plans to hold its first developer conference in October, where it will focus on Magic Leap's ability to create shared experiences involving multiple people wearing headsets who all see the same digital images. He calls that communal digital world the Magicverse.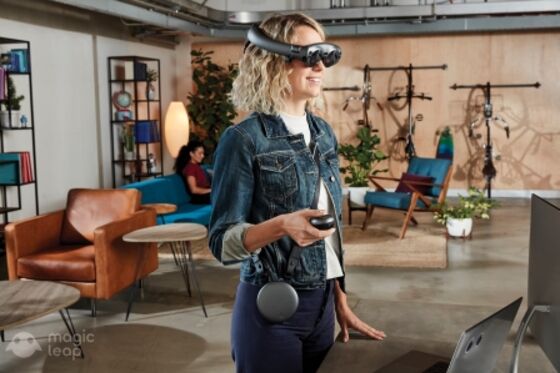 Excitement over computers that people wear on their faces has escalated and then crashed over the last several years. Virtual reality headsets like Oculus and the HTC Vive haven't caught on with consumers. Microsoft's augmented reality headset, the HoloLens, has won some fans, but most people in the industry openly acknowledge that mass-market augmented reality is years away at best. Today, the best hopes for sustainable augmented reality businesses focus primarily on workplace applications for product designers and factory workers. 
Magic Leap's audacious promises have extended far beyond that. Its hype machine, mixed with its penchant for secrecy, have made it something of a whipping boy for skeptics. The company drew criticism for releasing videos that suggested they were demos of its tech, but were not actually captured by Magic Leap headsets. It's missed past timetables for development milestones. And  embarrassing litigation with former employees have cast it as an unstable workplace. There's a widespread impression that the company has sustained damage from self-inflicted wounds. 
This summer's launch was preceded by some last-second reshuffling. In early July, Magic Leap hired its first chief product officer, a former Samsung Electronics Co. executive named Omar Khan. It also lost its head of product marketing, Jeffrey Gattis, who left the company just before the launch, a move that was initially reported by Recode. And the launch was delayed by several weeks at the 11th hour. 
Abovitz bristles at suggestions Magic Leap has over-promised, saying it is driven by a lack of understanding of a novel technology. The release of an actual product is the company's chance for vindication. It could also have big implications for the industry, and the many other startups built on the expectation that augmented reality can actually become a thing.
"It can be easy to go, 'oh these guys got out over their skis,'" said Tom Mainelli, who manages the devices group at IDC, a research and consultancy organization. "But the broader industry needs them to ship something viable."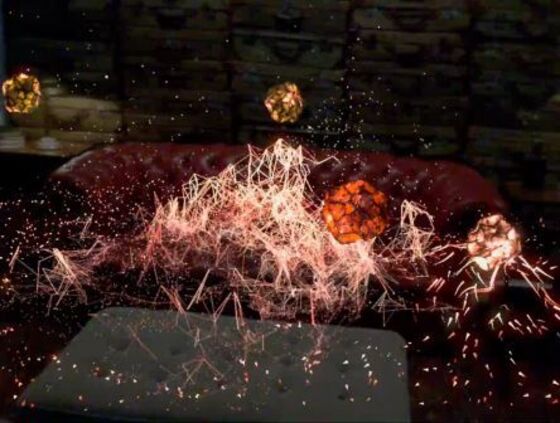 One feature of the headset already drawing scrutiny is the field-of-view, or the portion of a user's line of sight where digital images can appear. The Magic Leap headsets can display digital imagery in a plane that measures 40 degrees wide horizontally, slightly larger than the current HoloLens, but still considered to be modest. Abovitz said this is enough for it to appear that there is a "good-sized deer" on a couch across the room. A second-generation HoloLens is expected to have a far wider field of view, threatening to make the Magic Leap One seem old very quickly. 
After such a lengthy run-up to this release, Abovitz acknowledged that part of his job is to manage expectations, explaining to users hungry for the experience that he promised that this is just an incremental step. But understatement is not something that comes naturally to him. "Most people who have been on a real shipping unit are very pleasantly surprised," he said. "It's almost undeniable that you have walked into the future."