World's Biggest IPO in Two Years Avoids Repeat of Xiaomi
(Bloomberg) -- China Tower Corp., the company behind the world's largest initial public offering in two years, averted a repeat of smartphone maker Xiaomi Corp.'s disappointing coming-out party last month and eased concerns about future IPO prospects.
Shares of the state-run company, which operates almost all of China's mobile-phone towers, closed unchanged from its IPO price of HK$1.26 in Hong Kong on Wednesday. That kept Beijing-based China Tower's market value at under $28 billion, or 20 percent below the valuation it was hoping for as recently as a couple of weeks ago.
The fact that it didn't slump allowed China Tower to avoid becoming another Xiaomi, which initially saw itself storming into Hong Kong as a $100 billion company only to face a series of setbacks that resulted in the smartphone maker debuting at about half that amount. Hong Kong's IPO market is hot -- the amount of money being raised is headed for the best year since 2016 -- with Chinese restaurant review and delivery giant Meituan Dianping planning a potential $6 billion offering later this year.
"China Tower's debut is pretty good considering the market downturn," said Elsie Sheng, an analyst with Orient Securities (Hong Kong) Ltd. "It will give companies in the pipeline confidence."
China Tower was formed in 2014 and later combined assets held by China Mobile Ltd., China Unicom Hong Kong Ltd. and China Telecom Corp. as part of an industry reorganization. The company plans to use the majority of the proceeds to expand its number of towers and help President Xi Jinping step closer to his goal for China to be a pioneer in 5G wireless networks.
The stock trades at a cheaper valuation relative to other Tower companies, based on some metrics. For example, its enterprise value is almost eight times estimated earnings before interest, taxes, depreciation and amortization. That's about 60 percent of the average multiple that similar companies trade at, according to data compiled by Bloomberg and analysis by Sanford C. Bernstein.
Interest in the stock had been lukewarm ahead of the debut. Demand from individual investors was so bad ahead of the trading debut that orders exceeded available shares by only 36 percent, the worst reception for any three-billion-dollar-plus IPO in Hong Kong, according to data compiled by Bloomberg stretching back to 1999. By comparison, the retail portion of Xiaomi's IPO was oversubscribed by almost 10 times.
Read more: Another IPO debut in Hong Kong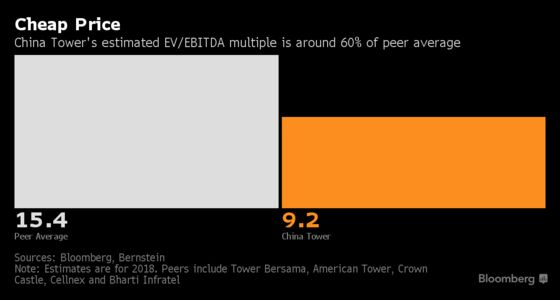 The company will probably see profit jump almost fivefold next year and 44 percent in 2020, while revenue climbs 13 percent in 2019 and 8 percent the following year as China Tower benefits from the buildup of 5G infrastructure across the country, according to Sanford C. Bernstein estimates.
Risks include the low profitability of towers in rural areas, the likelihood of growth slowing after 2020 and the chance that leasing fees could be negotiated down in five years by mobile carriers, who are also its major owners, according to Bernstein.
China Tower's ten cornerstone investors include Hillhouse Capital, Och-Ziff Capital Management Group LLC and Alibaba Group Holding Ltd., which agreed to buy a combined $1.4 billion of shares in the IPO. China International Capital Corp. and Goldman Sachs Group Inc. jointly arranged the offering.