A Trade War Haven, European Health Stocks Face Different Test
(Bloomberg) -- European health-care stocks have proven something of a haven in President Donald Trump's escalating trade war this summer, gaining the most of all sectors in the region over the past month. A sell-off on Wednesday lifts the curtain on a different challenge companies face from the U.S. as pricing pressure heats up.
The STOXX 600 Health Care Index, up about 17 percent from a March low, fell the most in six weeks after lackluster earnings from Novo Nordisk A/S, the world's largest producer of insulin, and fellow Danish firm H. Lundbeck A/S, a maker of antidepressants. Lundbeck was down 13 percent as of 12:50 p.m. in Copenhagen, while Novo Nordisk traded 4.8 percent lower.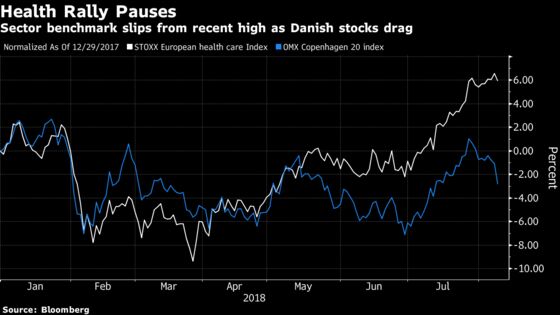 Both companies are encountering pricing pressure in the U.S. as makers of patent-free medicines vie for the same customers. In June and July, generic drugs were 7 percent to 8 percent cheaper than a year before, according to Evercore ISI. Consolidation among buyers, faster approval of competing pills by U.S. regulators and deals between manufacturers to further wring out costs are contributing to the pricing squeeze.
And that may not be all. Pharmaceutical companies operating in the U.S. await an announcement from Trump next week after he vowed to bring down prescription drug prices "really, really substantially."
The spotlight stays on Copenhagen as wound-care firm Coloplast A/S reported third-quarter results that missed analyst estimates, sending its shares down as much as 5.9 percent. Cancer-treating biotech company Genmab A/S is also due to report second-quarter results later on Wednesday.