'Mystery' Chinese Trades Fuel Aluminum's Biggest Gain Since May
(Bloomberg) -- Chinese traders are throwing their weight around in the aluminum market.
On Wednesday, just when U.S. traders were settling in at their desks, counterparts on the other side of the globe were piling into the Shanghai Futures Exchange. In the half hour ended 9:30 p.m. in Shanghai, 68,430 contracts for delivery in October changed hands, helping trigger buy orders on the London Metal Exchange that sent the metal to its biggest gain in three months.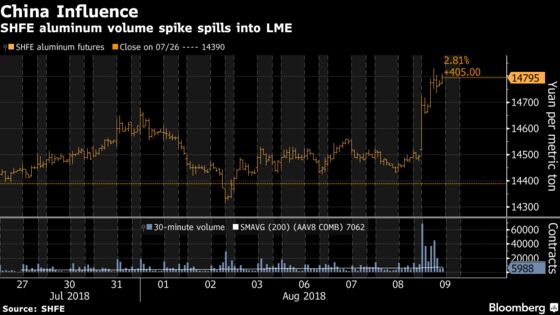 Traders in Shanghai "were aggressive buyers of aluminum and nickel," Tai Wong, the head of base and precious metals trading at BMO Capital Markets in New York, said in an email. "Why they drove aluminum $80 higher remains something of a mystery."
Aluminum for delivery in three months climbed 3.3 percent to settle at $2,106 a metric ton at 5:50 p.m. in London, after touching $2,117.50. That helped push up shares in top U.S. producer Alcoa Corp.
The rally gained steam around the same time Chinese traders flooded the Shanghai market, with 3,130 lots trading in the half hour ended 2:30 p.m. in London (9:30 p.m. Shanghai).
Russian aluminum giant United Co. Rusal is concerned of "catastrophic" shutdowns if U.S. sanctions aren't lifted, Reuters reported Monday, citing sources close to the company it didn't identify. Earlier this week, Rusal said it plans to start idling the Nadvoitsy smelter this month, which produced 12,000 tons last year.
"Rusal's troubles and Deripaska's unhappiness have been well reported so really shouldn't be a surprise," Wong said, referring to Oleg Deripaska, who controls En+ Group Plc, Rusal's largest shareholder.