Shorts Lose $220 Million in One Day After China Developer Soars
(Bloomberg) -- China Evergrande Group is punishing the short sellers again.
The property developer's shares jumped as much as 27 percent in Hong Kong on Tuesday after it said first-half profit more than doubled. The surge wiped out about HK$1.7 billion ($220 million) from the value of speculators' bearish bets, according to data compiled by Bloomberg and IHS Markit Ltd. Short interest was almost 20 percent of free float as of last week, the data show.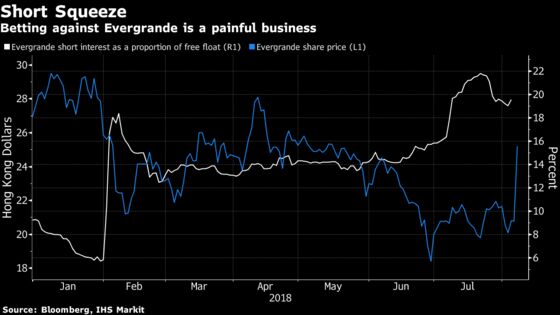 Evergrande, the fourth most-shorted stock in Hong Kong, is used to battling it out with bears. The shares surged 458 percent last year as the company spent billions in a buyback spree, a strategy it has revisited in 2018. The buybacks are so large and frequent that traders often watch for share price spikes minutes before the close. They've also reduced the number of shares freely available to trade to near the minimum threshold allowed by the Hong Kong exchange.
Those same traders may well have made a killing with their bearish Evergrande positions before this week, as the stock was down 23 percent for the year through Friday. Short sellers borrow shares with the aim of offloading them and buying back at a lower price, and then pocketing the difference. Click here for an overview.