Winter Stock Rout on Verge of Being Totally Ordinary Correction
(Bloomberg) -- What do you call a market spasm in which the VIX doubles, stocks fall 10 percent in 11 days and $2 trillion of equity value is erased? Try perfectly average.
Five weeks of gains have pushed the S&P 500 Index within 23 points of making up the 292 it shed over two weeks starting on Jan. 29. It's taken 192 days to claw this far back -- eight fewer than the average during corrections since the bull market began in March 2009.
Futures on the index rose 0.2 percent as of 7:38 a.m. in New York. A gauge that tracks the index's total return hit a record Monday.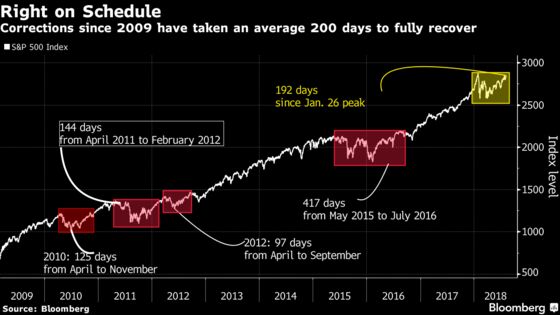 Things didn't feel very ordinary in February and March, when equity bulls were suffering through some of the worst months since the financial crisis. But after six months of 20 percent-plus earnings growth and the strongest reading on gross domestic product since 2014, investors are learning to forget.
"There definitely was a wall of worry, but markets found a way of climbing it," said Walter Todd III, chief investment officer of Greenwood Capital Associates. "People are more optimistic on a lot of things, though there are some offsets that are concerning. We are back to where we were half a year ago."
Propelled most recently by an earnings season in which companies beat earnings expectations at the highest rate on record, the S&P 500 has rallied 4.9 percent over the past four weeks, extending its run since a Feb. 8 low to 10 percent.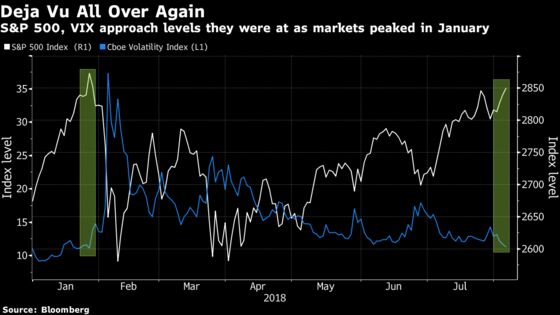 At its closing level of 2,850.4, the S&P 500 is 0.8 percent away from its all-time record of 2,872.87, reached Jan. 26. The Cboe Volatility Index closed Monday at 11.27, compared with 11.08 on that date.
For investors in other segments of the market, the winter trauma ended a while ago. The Nasdaq 100 Index recouped its January high in March and is currently trading 6 percent above it. For small caps in the Russell 2000 Index, the selloff was over in May, and the gauge is up nearly 10 percent year to date.