Telkom Indonesia Says End to Price War Signals  'Worst Is Over'
(Bloomberg) -- For PT Telekomunikasi Indonesia, the first increase in data tariff in more than two years is a signal that the era of bruising industry price war has ended.
Revenue at the mobile unit of Indonesia's largest telecommunication services provider has been rising since May and a nationwide data price increase in July is set to sustain the momentum, according to Chief Financial Officer Harry Mozarta Zen. Telkom's second-quarter net income slumped 45 percent with earnings before interest, taxes, depreciation and amortization margin sliding to its lowest since at least 2001, according to data compiled by Bloomberg.
Indonesian telecom operators are raising prices for the first time since 2016 after the government mandated the registration of SIM cards for prepaid users, making it harder for customers to switch their accounts to chase discounts. With revenue from the legacy services such as voice and short-messaging service fast shrinking, Telkom and other providers are in a better position to increase tariffs as customers hooked on to smartphones for watching videos to buying and selling goods are consuming more data.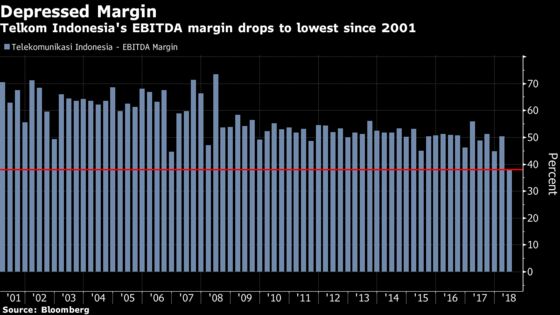 "The second quarter was the lowest point in the history of our cellular business," Zen, a former banker at Credit Suisse Group AG who joined Telkom in 2016, said in an interview on Friday. "Once you are past this, the only trajectory is to go up and we have seen these signals of a rebound."
Telkom shares jumped as much as 4.6 percent in Jakarta on Monday after tumbling 12 percent last week, the biggest such retreat since 2010. The stock is on course for its first annual decline in seven years and three analysts downgraded the stock from buy to hold post the earnings. Still 26 of the 34 analysts have buy recommendations, data compiled by Bloomberg show.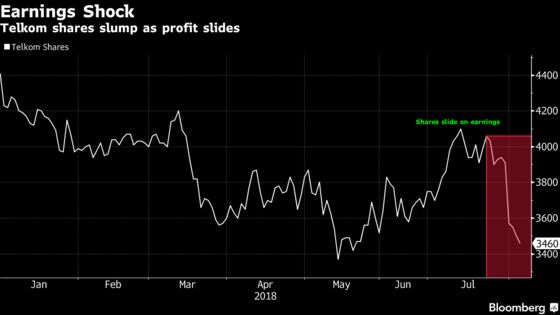 While Telkom joined PT Indosat and PT XL Axiata in raising data prices, further increases may be limited by its weak data traffic growth and the dominant position in the market as a state-owned company making it vulnerable to government intervention, according to Arandi Ariantara, an analyst at Samuel Sekuritas.
Revenue of Telkom's mobile unit PT Telekomunikasi Selular rose 7.3 percent in May from a month earlier and further grew 9.8 percent in June, while it's still compiling the July figures, Zen said. The company is open to raising prices further if the competitors followed suit but Telkom would seek to keep "a healthy level of premium gap" over its rivals, he said.
Telkom raised its data prices between 4 percent to 11 percent in July after converting more than 80 percent of its prepaid mobile phone chip holders to register as mandated by a government regulation, according to Zen.
The company plans to issue 1 trillion rupiah to 2 trillion rupiah worth of medium term notes this year ahead of a possible increase in interest rates, Zen said. Telkom is also putting on hold a plan to issue rupiah-denominated offshore Komodo bonds, he said.
Sustainable price hikes will be key to the industry's profitability after operators were competing fiercely to retain customers in the first half during the government's mandatory sim-card registration program, according to Niko Margaronis, analyst at PT Ciptadana Sekuritas Asia.
"Prices are due to go up post registration process because customers tend to buy more reload packages and hold on to their numbers than buying new starter packs where prices are suppressed," said Margaronis who has "buy" recommendation on Telkom with a target price of 4,600 rupiah.