Sanctions Threat Forces Iran to End Effort to Support Rial
(Bloomberg) -- Iran's central bank, acting on the eve of U.S. sanctions, scrapped most currency controls introduced this year in a bid to halt a plunge in the rial that has stirred protests against the government of President Hassan Rouhani.
Under the measures, the central bank will allow the market to determine the rate of foreign-exchange transactions except the imports of essential goods and drugs, Governor Abdolnaser Hemmati told state television Sunday night. Licensed currency houses whose trading had been halted will be allowed to resume operations from Tuesday, he said.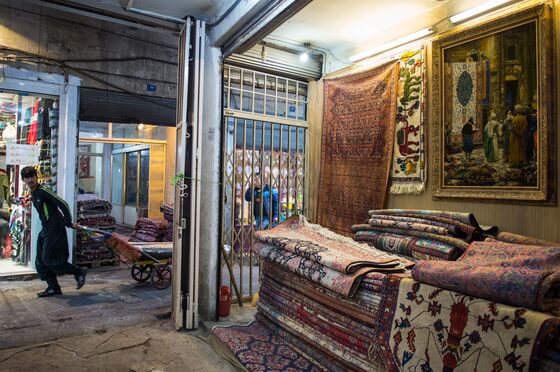 The rial's slump to record lows has been at the heart of an escalating crisis facing Iran's economy as the U.S., encouraged by Iranian foes in the Middle East, seeks to isolate the Islamic Republic after pulling out of the 2015 nuclear deal. One person was killed and 20 other detained in the city of Karaj, west of Tehran, in a protest on Friday. In another town, about 500 people used stones and bricks to smash the windows of a seminary and tried to set the building ablaze, local media reported.
"With activity being banned on the free market, people couldn't access their foreign- currency needs and alternative prices had taken shape which led to corruption," Hemmati said, according to the state-run Iranian Students News Agency.
"Given that we have suitable currency reserves we decided to allow the market to carry out its activity and let supply and demand form."
A central bank official said exchange houses will determine the rial's rate without any guidance from the regulator. Customers, however, will have to show a compelling reason to buy dollars, such as travel, medical or education expenses, and won't be able to get large amounts, according to the official, who asked not to be named because he's not authorized to speak to the media.
Earlier this year, the central bank said it would unify the exchange rate at 42,000 rials to the dollar in an attempt to root out unregulated trading. It banned exchange houses from selling foreign currencies, and authorities arrested dozens for allegedly manipulating the rules for personal gain. Among those detained is a central bank deputy governor in charge of foreign-currency affairs.
But the policies backfired, with the rial weakening to more than 100,000 to the dollar on the black market this month.
On Ferdowsi Avenue in downtown Tehran -- the heart of foreign-exchange trading in the capital -- some stores were shut while others had signs reading "No dollar sales to individuals" and boards showing zeros next to all currencies. Some dealers on street corners whispering "Dollar...Currency."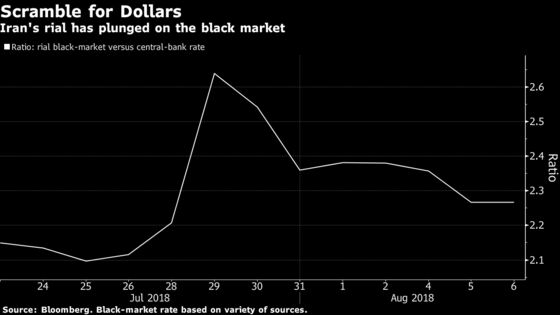 Traders present at empty exchange houses were skeptical that the central bank's U-turn will work this time around. One said he was ready to sell $2,000 to anyone without documents.
The currency crisis has heaped more pressure on Rouhani, a moderate cleric who was first elected president in 2013 on promises to end Iran's international isolation. He championed the 2015 agreement with global powers to curb Iran's nuclear program in exchange for sanctions relief.
U.S. President Donald Trump condemned the pact as a "disaster" that would ultimately lead to a nuclear-armed Iran. European powers, who are attempting to limit the damage imposed by sanctions, and international nuclear monitors say Iran is sticking to the accord.
Starting Tuesday, the U.S. will ban purchases of dollar banknotes by Iran, prevent the government from trading gold and other precious metals, and block the nation from selling or acquiring various industrial metals. The measures also target the auto industry, and will ban exports of Persian carpets and pistachios to the U.S.
Hemmati was appointed late last month with Rouhani stressing that the challenges facing the country called for "fresh blood." The president has instructed Hemmati to work on preserving Iran's foreign-currency reserves while looking for "new tactics and approaches" to counter U.S. attempts to disrupt Iran's banking relations with the world.
The list of essential goods that will be imported under the central bank's fixed exchange rate will be announced by the Ministry of Industry, Trade and Mines.