Rusal's Making Money But Stockpiling Metal as Sanctions Hit
(Bloomberg) -- United Co. Rusal gave investors the first glimpse into how sanctions are hitting the Russian aluminum giant, showing that it's still making money despite lower sales.
The top producer outside of China on Monday said adjusted net income in the three months through June fell 31 percent from the previous quarter to $218 million. While the company was for a time shut out of international markets after being sanctioned in April, it benefited from high prices of aluminum and alumina, which it sells to third parties.
Still, the results show that sales of value-added products, a key part of the business, fell in the quarter and inventories rose by more than $460 million since end of December. That was mainly due to the sanctions, as well as higher power, transportation and raw-material costs.
The penalties imposed on Rusal and its largest shareholder En+ Group Plc, controlled by billionaire Oleg Deripaska, hurt shipments and prompted the company to switch output in April to a low-grade of aluminum that it can't sell. That raised questions about Rusal's future, though production mostly recovered after the U.S. softened its stance and extended the deadline for winding down operations with the company until October.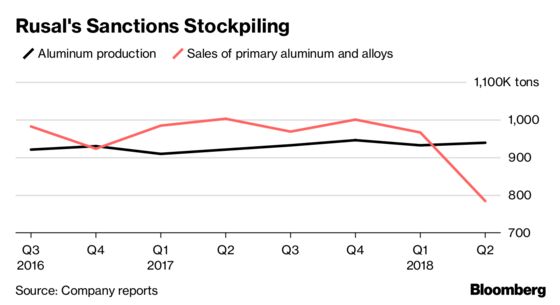 Rusal produced 1.87 million metric tons of aluminum and alloys in the first half, but sold only 1.75 million tons, it said in a statement. That's down from 1.99 million tons of sales in the same period a year earlier. Sales of value-added products fell more than 8 percent year-on-year to 869,000 tons.
One benefit was the impact on metal prices, with aluminum spiking to a seven-year high in April as the sanctions hurt the global supply chain.
"Rusal was helped by higher prices and it was working almost normally in recent months," said Kirill Chuyko, chief of research at BCS Global Markets. Some clients also bought Rusal metal to stockpile amid uncertainty over whether the winding-down period would be extended, he said.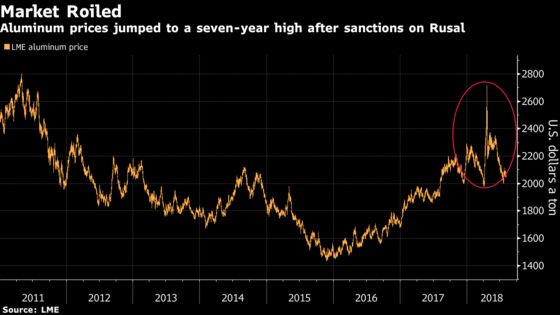 The U.S. Treasury last week gave investors more time to sell their shares and debt in Rusal and En+, but suggested further negotiations are needed before making progress on lifting sanctions. Deripaska sees U.S. demands on Rusal as unacceptable, according to people familiar with his thinking.
With uncertainty over sanctions remaining the chief risk, Rusal is looking for new markets and clients, as well as trying to ramp up domestic consumption, it said. Russia and former Soviet republics accounted for 29 percent of total sales in the first half, up from 24 percent a year earlier.