London Investor Puts Hedge Back in Hedge Fund as ECB Exits
(Bloomberg) -- One London investor is finding a reason to short again as the European Central Bank ends its bond-buying program.
Redhedge is starting a relative-value strategy in corporate bonds previously targeted for purchase by the ECB, according to Chief Investment Officer Andrea Seminara. The firm will take short as well as long positions after years of unprecedented demand for investment-grade debt when the only game in town was to buy.
The ECB has bought more than 160 billion euros ($185 billion) of corporate bonds since it started the program in 2016 to boost the region's economy. The purchases distorted the market for investment-grade debt by driving demand across the board, narrowing the gap in performance and pushing average yields below 1 percent. Now that the ECB plans to stop purchases by year-end there's a reason for investors to be selective.
"At the beginning of QE it was very difficult to identify fair value because there was a big technical buyer moving the bonds," said Seminara, who declined to disclose the assets under management at Redhedge. "Now we're approaching the end, we think a lot of trade opportunity will be generated."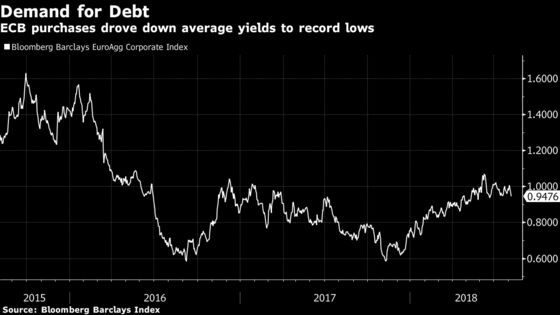 The firm hired Raphael Reiner, a former Credit Suisse Group AG trader, last week as an investment-grade portfolio manager to start the strategy, said Seminara. It plans to hire two more traders this year.
Redhedge will take long and short bond positions in companies within the same sector and also in bonds of the same issuer, according to Seminara. It will trade mostly euro-denominated debt, he said.
Redhedge already follows a relative-value strategy targeting hybrid bonds and subordinated financial debt, he said.
The ECB's purchases drove average yields on investment-grade bonds to a record 0.6 percent last year, well below the five-year average of 1.2 percent, Bloomberg Barclays index data show. The buying spurred so much demand for corporate debt that it drove some yields negative.
"In the last couple of years people stopped looking at the fair value of a bond curve because everything was grinding tighter," said Seminara. "We think now there is more opportunity to do that."