Drone Scare Leaves Venezuela on Edge
If you believe the official account, Venezuelan President Nicolas Maduro escaped an attack Saturday by an explosive-laden drone that detonated over the stage where he was addressing a military parade.
Like all things in Venezuela, the facts are being questioned, debated and reinvented – the main evidence is a video of cadets scampering to safety following a blast. Pictures show bodyguards shielding the president as his wife and defense minister look on. A second drone apparently hit a residential building blocks away, causing a small fire.
Above all, the incident made Maduro's administration look vulnerable and gave him an excuse to again blame the opposition, the U.S. and neighboring Colombia for conspiring against him. A handful of people were rounded up and thrown in jail, though details are scarce about who they are or what role they might have played.
Following his re-election in May, Maduro has imprisoned and cowed political opponents while promising reforms to dig the country out of its war-like economic crisis. The biggest threat to his presidency appears to be coming from internal divisions within the military and other irregular armed groups.
With several plots dismantled in recent years, bizarre incidents like the drone attack are becoming more frequent.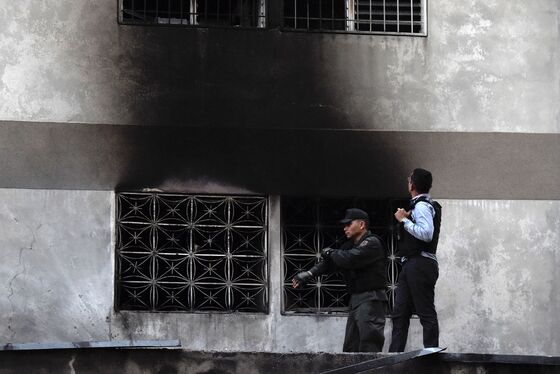 Iran braces | After months of angry rhetoric and dire predictions for the Iranian economy following Donald Trump's decision to withdraw from the 2015 multilateral nuclear accord, U.S. sanctions are about to come into force. From tomorrow, Iran faces American restrictions on purchasing dollars and trading in gold, among other measures. Officials are scrambling to halt a slump in the local currency triggered by the Trump offensive that's already stirred protests against the government of President Hassan Rouhani.
U.S. Secretary of State Michael Pompeo told reporters traveling back with him from Asia the White House would have an announcement today regarding the re-imposition of sanction on Tehran.
Rouhani is set address the nation at 9:40 p.m. (1:10 p.m. ET) to respond.
Trading barbs| China says it can absorb the impact of Trump's tariffs, with the nationalist Global Times declaring in an editorial that Beijing is buckling down for the long haul. A trade war aims to "force China to be a U.S. economic vassal," the paper said. The commentary follows Trump's weekend assertions that a tough stance on trade is "my thing," and that duties on Chinese goods are working "big time."
No-deal risk | Prime Minister Theresa May's ministers are ratcheting up warnings of Britain crashing out of the European Union without a deal. And they're blaming Brussels, which Trade Secretary Liam Fox says is putting ideology over the "economic well-being of the people of Europe." But it's a dangerous argument given mounting criticism in the U.K. that the government's focus on Brexit is draining its ability to tackle other issues including poverty, lack of housing and widespread cuts to public services. "We call it 'neglexit,'" one opposition lawmaker said.
Shifting story | Trump's tweet that his son met in Trump Tower in 2016 with Kremlin-linked Russians to "get information" on Hillary Clinton contradicts a statement the president helped craft last year saying the focus was on U.S. policies for adopting Russian children. It comes amid signs the Senate Intelligence Committee's Russian meddling probe is likely to stretch past the November midterm elections.
Standoff | Saudi Arabia has suspended diplomatic ties and new trade dealings with Canada in response to its call for the release of Saudi women's rights activists. Zaid Sabah and Glen Carey look at the dramatic escalation that highlights an increasingly assertive foreign policy under Crown Prince Mohammed bin Salman. Saudi Arabia has invested about $6 billion in Canadian businesses since 2006, data compiled by Bloomberg show.
Netanyahu backlash | A law enshrining Israel's Jewish character has sparked an uncharacteristically powerful response from the nation's staunchest Arab supporters against Prime Minister Benjamin Netanyahu. Gwen Ackerman reports on how the measure's exclusion of the Druze, a minority that sends its sons to serve along Jewish soldiers, has provoked a sense of betrayal.
And finally ... Trump says modern warfare's reliance on satellites makes them tempting targets. So tempting, in fact, the potential peril warrants the creation a new military branch - come to be known as the Space Force. Justin Bachman examines the risks that satellites – which power the military's GPS systems, wireless communications and sophisticated weather forecasting – face and what a U.S. space force could look like.