China's Giant Bond Market Lures Australian Fund as Link Ramps Up
(Bloomberg) -- One of Australia's biggest money managers is paving the way for the nation's huge pool of pension money to tap China's $11.6 trillion bond market that is becoming more accessible to foreign investors.
QIC Ltd., a $74 billion Brisbane-based fund, will be ready to use Bond Connect by year-end, according to Susan Buckley, making it likely Australia's first money manager to use the trading platform that opened in 2017. The program, alongside the inclusion of Chinese debt in global bond indexes next year, is giving overseas firms another way to buy fixed-income securities in a market that is more than 97 percent made up of domestic investors.
"The clear targets we look at in Australia on top of the asset managers are the superannuation funds and some of the big investors such as QIC, which are definitely high up on our radar," Julien Martin, who heads Bond Connect Co.'s joint venture between exchanges in China and Hong Kong, said in a separate interview. He expects daily trading volume to grow fivefold to 30 billion yuan by the end of next year.
With the world's third-largest bond market opening up to foreign buyers, Australian asset managers are looking to diversify holdings just as the nation's pension pool grows faster than those in the U.K., the U.S. and Japan and is forecast to reach $4 trillion by 2025.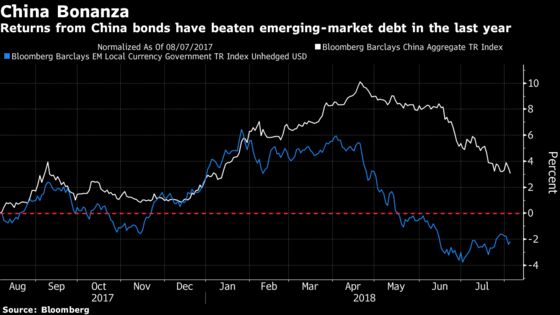 China's appeal for QIC is to diversify its fixed-income portfolio and access a market with favorable yields, said Buckley, its managing director of global liquid strategies. China's 10-year government bond yields were at 3.46 percent Friday, compared with 2.95 percent on Treasuries with a similar maturity.
A sliding yuan and a bear market for equities are keeping moves in Chinese markets at the forefront of investors' minds as policy makers react to cushion a slowdown in Asia's biggest economy.
"We're in an orderly sort of depreciation of the Chinese yuan, we're not feeling like it's going to be a sharp devaluation although we've definitely had a meaningful depreciation," Buckley said. "It's in line with probably where we see the economy right now in terms of the slowdown."
Bond Connect chief Martin said the platform handled a daily average of about 6.5 billion yuan last month. That should rise to between 25 billion yuan and 30 billion yuan by the start of 2020 as the number of investor accounts grows from 400 to about 1,000, he said. Buckley said QIC will likely be a new Bond Connect client by the end of this year after months of work to analyze trading and settlement infrastructure via the trading link.
"We're going through the process of registering," said Buckley. "We're pretty close on that front."