Swedish Krona Finds a Friend as State Street Suggests Overweight
(Bloomberg) -- An end to the troubles of this year's worst Group-of-10 currency may now be near.
That's the view of Timothy Graf, head of Europe Middle East and Africa macro strategy at State Street Bank & Trust Co., who recommended last week an overweight position in the Swedish krona. The currency is seen as one of the top three gainers in the G-10 basket against the greenback during the remainder of 2018, according to the median estimate of foreign-exchange strategists surveyed by Bloomberg.
A recent pick-up in Swedish economic data is boosting prospects of tighter Riksbank policy, which in turn could add support for the krona. Furthermore, the so-called stokkie is increasingly looking like a bargain to some investors after its 8 percent slump this year.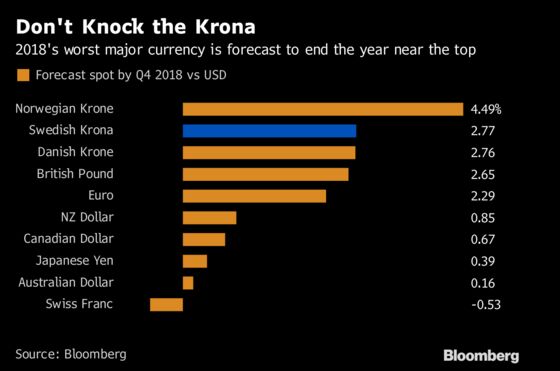 "Everyone's liked the stokkie at some point because it's cheap and that remains the case," London-based Graf said in an interview. "Growth's pretty strong, inflation's above target, the Riksbank know they've got to normalize rates or they're going to miss their chance."
A report last week showed Sweden's economy expanded twice as fast in the second quarter as economists had estimated, pushing the krona to a four-week high against the euro. This was followed by data showing a jump in manufacturing activity, reaffirming the Nordic economy's strength.
The krona was around 10.3200 per euro Friday afternoon in London and the Bloomberg survey estimate is for it to strengthen to 10.10 by year-end. Against the dollar, the prediction is for a 2.9 percent advance to 8.66.
While the currency lost some momentum amid global trade tensions, recent Swedish data have prompted analysts at Swedbank AB to become "slightly more bullish" on increased conviction that the Riksbank will raise interest rates in December.
While Henry Ohlsson, the Riksbank's most hawkish policy maker, used exclamation marks last month to drive home his case for an immediate rate increase, the majority argued for taking a cautious approach amid "moderate" inflation pressures. That would put increased focus on Sweden's consumer price data due Aug. 10.
"Trading the stokkie has all been about tactics this year," State Street's Graf said. "No matter how you're positioned, someone in the central bank will make a comment that will hurt your position -- think about the very short term, find levels that work and that's kind of what we did, saying we like it a little bit more."
After last week's barrage of central bank decisions, markets will focus on data while sentiment remains vulnerable to the ongoing trade spat between the U.S. and China
Economic releases include inflation data from U.S. (Aug. 10), U.K., German, French industrial data, U.K. preliminary GDP for 2Q, Swedish CPI data (Aug. 10)
Reserve Bank of Australia rate decision (Aug. 7), Bank of Japan releases a summary of opinions from its July 30-31 meeting, RBA Governor Lowe speaks in Sydney (Aug. 8), Fed's Tom Barkin speaks in Virginia (Aug. 8), ECB publishes Economic Bulletin (Aug. 9)
The first phase of the restoration of U.S. economic sanctions on Iran are scheduled to take effect on Aug. 6 -- President Trump also seeks a tougher stance on Iran from European allies