Tipping Point in European Bonds for Japan Buyers Is Nearing
(Bloomberg) -- The value proposition for Japanese buyers of European debt is shriveling away.
Amid a tumultuous summer in global markets, investors from the Asian nation now suffer a loss of about 20 basis points when buying currency-hedged German 10-year bonds instead of Japanese 30-year ones, a key comparison in deciding whether to keep money abroad or pivot home. As recently as the middle of June, they were getting a premium.
Meanwhile, the pick-up from buying hedged French 10-year bonds has dwindled to just 13 basis points from 23 basis points on July 20, the day speculation emerged that the Bank of Japan was planning to adjust its ultra-loose monetary policy, triggering a surge in local yields.
The current trend, if it holds, may soon lead to a tipping point for Japanese investors, convincing them to start drawing back some of the $323 billion of investments of debt they hold in the two major European markets. While an immediate sell-down is unlikely, Tokyo-based money managers say flows toward the two countries may well reverse direction.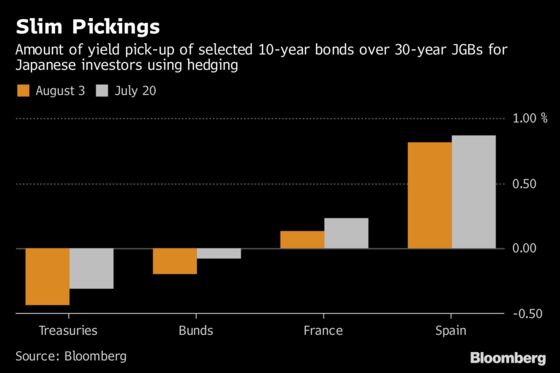 "European bonds could be impacted the most as Japanese investors such as life insurers have bought them, especially French bonds, aggressively on a hedged basis," said Eiichiro Miura, general manager of the fixed-income investment department at Nissay Asset Management Corp. in Tokyo. "Investors hadn't factored in the BOJ's steps."
Just as the BOJ's decision to implement negative interest rates and curb yields in 2016 drove Japanese funds abroad, the central bank's move last week to introduce more flexibility into its yield-curve control policy is spurring a recalculation.
The rising cost of currency hedging has already convinced Japanese funds to become net sellers of long-term U.S. bonds in every month except one since October.
Japan's 10-year yield jumped to an 18-month high of 0.145 percent on Thursday. It was unchanged for the day at 0.105 percent as of 1:11 p.m. in Tokyo, having more than tripled from 0.03 percent on July 20. The BOJ will allow a deviation of as much as 0.2 percentage points above or below its zero percent target, double the previous range, Governor Haruhiko Kuroda said after Tuesday's policy decision.
The 30-year yield was down one basis point at 0.835 percent on Monday, after reaching 0.85 percent on Friday, its highest since January. An auction of 700 billion yen ($6.3 billion) of 30-year bonds on Thursday may provide more clues about investor appetite for longer-end bonds.
"While the 30-year auction should attract solid demand at current levels, it will be a test of super-long supply-demand amid post-BOJ volatility," Shinichiro Kadota, a senior foreign-exchange and yen-rates strategist at Barclays Securities Japan Ltd., wrote in a report.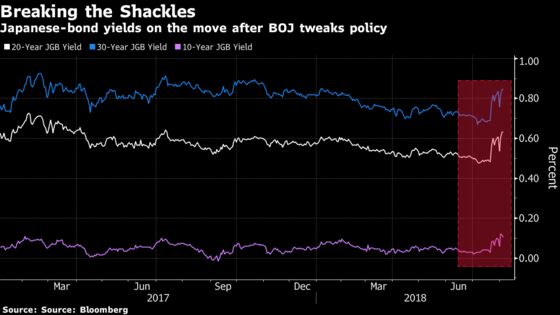 "Money which has been allocated to high-grade foreign bonds on a hedged basis can move back to yen bonds," said Hideaki Kuriki, chief fund manager at Sumitomo Mitsui Trust Asset Management Co. in Tokyo. "If the 20-year JGB yield climbs further, it will further boost the attractiveness of local bonds relative to 10-year bunds."
Japanese investors sold 190 billion yen of French sovereign debt in May, the first cut in holdings since August, according to official data. Even if they decide not to withdraw more money right away, other investors could start becoming wary about buying European debt given the uncertainty over flows.
A French 20-year bond auction on Thursday drew the weakest demand since at least 2007, with analysts suggesting speculation about Japanese risks may have deterred buyers.
"Purchases of French bonds and German bunds from investors such as life insurers could shrink if the 30-year bond yield rises to 1 percent," said Masahiko Loo, portfolio manager of fixed income at AllianceBernstein Japan Ltd. "They could even start selling them if the yield heads up to 1.10 or 1.20 percent."