Turkey's Markets Plunge Into the Unknown After U.S. Sanctions
(Bloomberg) -- Turkish markets are plunging deeper into the wild.
Unprecedented sanctions imposed by the U.S., its NATO ally, have added to cross-currents buffeting investors. They've already been despairing at policymakers' failure to contain inflation and stem the slide in the lira under pressure from President Recep Tayyip Erdogan to bolster growth.
The U.S. "move will likely only incense Erdogan and a commensurate response is already promised," Timothy Ash, a strategist at BlueBay Asset Management in London, said in emailed comments.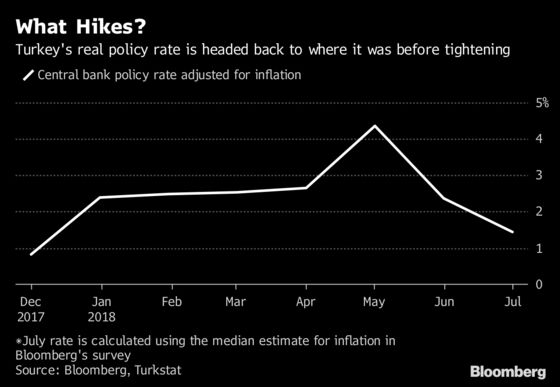 Turkey remains particularly exposed to shifts in investor sentiment, given its large external financing needs. The lira has shed more than a fifth of its value this year against the dollar as capital inflows slowed to a trickle, hampering the ability of companies to repay foreign-currency loans and fueling inflation.
The lira, bonds and stocks extended their slide after the U.S. imposed sanctions on two government ministers over the detention of an evangelical pastor. The currency fell 1.4 percent to 5.0664 as of 12:05 p.m. in New York after plunging as much as 2 percent to an all-time low of 5.0930 against the dollar.
The yield on 10-year debt bonds jumped 89 basis points to a record 19.48 percent. The benchmark share index dropped as much as 3.2 percent, bringing its loss this year to 18 percent, the worst performance in the world in local currency terms. The iShares MSCI Turkey ETF dropped 2.2 percent.
"The market lurches from one negative event to another," said Nigel Rendell, a senior analyst at Medley Global Advisors in London. "The net result being the erosion of foreign appetite for Turkish assets and an ever weaker lira."
After months of inaction in the face of double-digit price growth, the central bank boosted borrowing costs by 500 basis points starting in April -- but the move came too late. Economists estimate consumer prices jumped more than 16 percent in July, a pace that effectively drives inflation-adjusted policy rates down to levels seen at the end of last year and leaves the nation's assets exposed to the ebbs and flows of foreign capital.
"The central bank has remained behind the curve," said Alp Serbetli, a currency trader at Anadolubank AS in Istanbul. "The market is currently pricing that risk premiums and inflation will further increase and that the central bank will be forced to hike more."
Governor Murat Cetinkaya said Tuesday that the central bank held off on another rate hike last week because economic growth was seen to be slowing, and that he wants to see the lagged impact of past increases. Still, market pricing suggests the inflation outlook is only going to get worse if the monetary authority hesitates further on tightening policy soon.
A report due Friday will show consumer prices rose at an annual pace of 16.3 percent in July, according to the median estimate in Bloomberg survey. That would push down the central bank's main policy rate to less than 2 percent after adjusting for price growth. The central bank next meets on Sept. 13.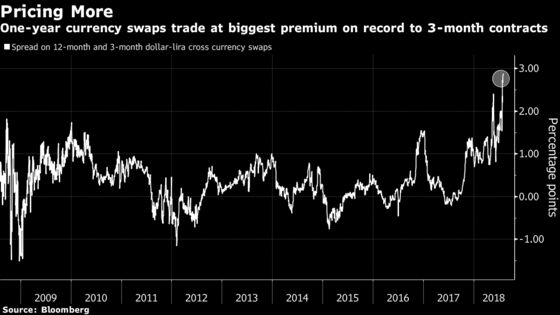 The one-year dollar-lira currency swap rate jumped to the biggest premium on record to the three-month contract after the central bank unexpectedly refrained from raising rates on July 24 -- a sign that investors are demanding more compensation for longer-dated securities to protect themselves against an acceleration in price growth.
"It's bad," said Cristian Maggio, head of emerging-market research at TD Securities in London. "Diplomacy has never been that bad in many years, the economy is slowing and there's a concrete risk of a hard landing; from a financial viewpoint, the central bank will be forced to hike again unless the upside dollar-lira move reverses, but I'm afraid it won't."