Rio Tinto's Profit to Remain Pressured by Costs, Analysts Say
(Bloomberg) -- Rio Tinto Group may struggle to cut costs further after profit at the world's second-biggest miner was hit by higher-than-expected energy and raw material prices at its aluminum unit, analysts say.
The cost of input materials, including coke and caustic soda, is likely to remain elevated, Chief Financial Officer Chris Lynch said on a conference call after higher expenses trimmed first-half earnings by $500 million at the company. The Sydney-listed shares fell 4.9 percent on Thursday, the most since February 2017, after Rio Tinto PLC declined 3.4 percent in London overnight.
"The easy cost out appears to be over," Royal Bank of Canada analyst Paul Hissey wrote in a note to clients. "Unit-cost savings from here are more likely to be facilitated by increasing volumes rather than spending less."
Rio Tinto reported underlying profit of $4.42 billion, the highest since 2014, and pledged to return $7 billion to shareholders after a series of asset sales.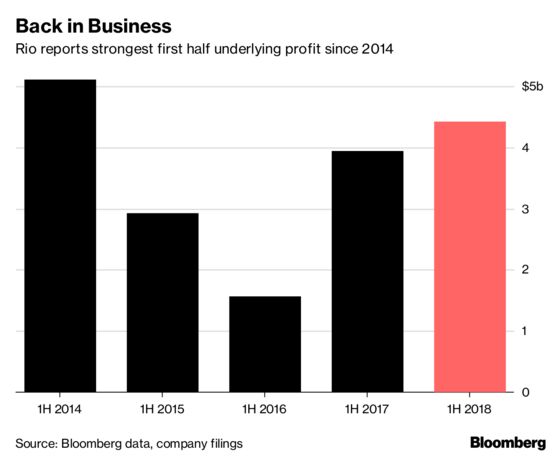 Read More: Rio CEO Says Quest to Build New U.S. Copper Giant Gaining Pace
Here's what analysts are saying about Rio Tinto:
Rising volumes, prices offset inflationary pressures, higher energy and operating costs
Investors may be buoyed by additional payouts
Maintains underperform; PT A$65
Market underestimated cost pressures from aluminum unit; iron ore costs rose from higher diesel, energy and labor, general inflation, cyclical maintenance and longer haul distances
Ongoing shareholder returns can be expected; there's no "right" growth opportunities; net debt is at comfortable level
Maintains buy, PT cut to A$90 from A$93 on impact to earnings from higher central office costs and inflation
Maintaining current iron ore cost position will become more challenging as proportion of material mined below water table increases
Earnings and dividend missed estimates; payout miss may be moot given $1b buyback top up and another $4b to be returned
Maintains buy, PT A$91
Cuts medium-term earnings outlook on higher than expected aluminum costs; no indication of near-term cost relief
Maintains overweight given "still attractive" valuation, strong returns outlook; PT cut to A$94 from A$96
9 buys, 4 holds, 3 sells; avg. PT A$82.96
Shares up 2.4% YTD vs ASX 200 up 2.9%