Och-Ziff Lures Cash With CLOs as Its Hedge Fund Clients Flee
(Bloomberg) -- Och-Ziff Capital Management Group LLC succeeded in pulling in fresh capital for a second straight quarter, but the cash didn't come from their hedge funds -- which keep losing money.
Net inflows of $1.2 billion came from issuing collateralized loan obligations in the period ended June 30, the New York-based firm said in a statement Thursday. The hedge fund business -- where billionaire Dan Och's firm generates most of its fees -- saw $367 million in withdrawals from its multistrategy funds and another $51 million from its credit funds.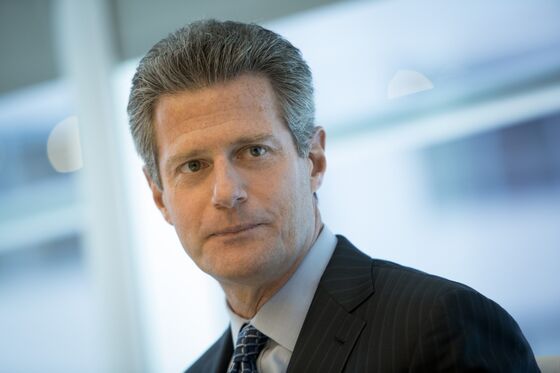 The period marks the longest span of inflows for the beleaguered manager since 2014, thanks to the sale of CLOs in the first and second quarters. But withdrawals from its multistrategy funds haven't let up over the period. It's a signal that the turnaround led by Chief Executive Officer Robert Shafir, who was appointed on Feb. 5, is struggling to renew investor confidence almost two years after the firm settled a five-year bribery probe with regulators. The company has also grappled with changes to Och's succession plan, executive departures and a slump in shares.
"Our performance in the multistrat is strong and we believe flows follow performance, but we have not seen the level of inflows that we would have expected to see at this point," Shafir said on a conference call Thursday. "We believe in multistrat and remain optimistic that our product will resonate with clients and turn into flows over time."
Sentiment from investors is turning from red to yellow, he said. In the meantime, income from management fees fell to $66 million in the second quarter, a 12 percent decrease from a year prior, as the firm's asset mix shifted. The multistrategy funds now oversee about $12.7 billion, down from $29.2 billion five years ago. The OZ Master Fund fell 0.35 percent in July, bringing returns for the year to 4.05 percent, according to a separate statement.
"We are still experiencing some of the hangover from some of our legacy issues that we've gone through in the last couple of years," Shafir said. "My philosophy is the product is timely, the performance is strong, and I think with time and distance from our legacy issues we will ultimately begin to turn those lights green."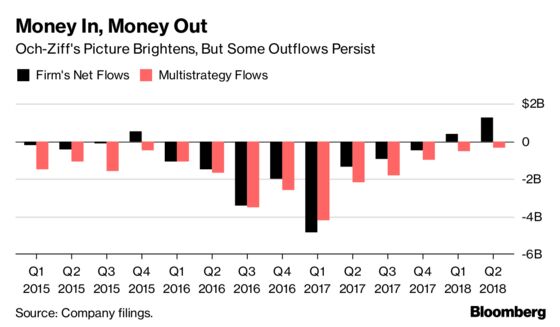 Och-Ziff's total firm assets were $33.5 billion as of Aug. 1, according to a separate statement. In its earnings report today, Och-Ziff said it had distributable earnings of $7.1 million, or 1 cent a share, in the second quarter, compared with $53.3 million, or 10 cents, a year earlier.
Shafir, a former executive at Credit Suisse Group AG, has been reorganizing the company by shrinking or shuttering non-core businesses, including the company's European and Asia hedge funds. Some of the hedge-fund outflows came from the closure of those funds, the company said.
The firm's Institutional Credit Strategies drew $1.6 billion in cash, with more than $900 million from new CLOs and almost $700 million from an aircraft management program. CLOs are a type of collateralized debt obligation that pool high-yield, high-risk loans and slice them into securities of varying risk and return.
Global demand for yield has been fueling sales of CLOs, which provide a steady stream of fees to the managers who put the complicated structures together. But those fees pale in comparison to hedge fund fees: Och-Ziff charged an average management fee of 0.41 percent on its CLOs in the first quarter, while charging between 0.97 percent and 2.5 percent to manage the assets in its multistrategy funds.