Nordea Is Shorting Turkey About to 'Spiral Out of Control'
(Bloomberg) -- The head of emerging markets debt management at Scandinavia's biggest bank doesn't mince words when it comes to the situation in Turkey.
Thede Ruest is directing the $500 million he helps oversee to short Turkey, a bet that should be paying off as turmoil grips the nation of about 80 million people. "It may even spiral a little bit out of control," Ruest at Nordea Asset Management said by phone from Copenhagen on Wednesday.
Turkey's lira has plunged about 25 percent against the dollar this year, bond yields have hit records and its stock market is the world's worst performer in local currency terms. President Recep Tayyip Erdogan has spooked investors by putting pressure on central bank policy makers, sparking concerns about inflation. Compounding problems, the U.S. this week imposed sanctions on two Turkish ministers over the detention of an American pastor.
"It's clear that in Turkey you see a prime example of an erosion of governance," Truest said.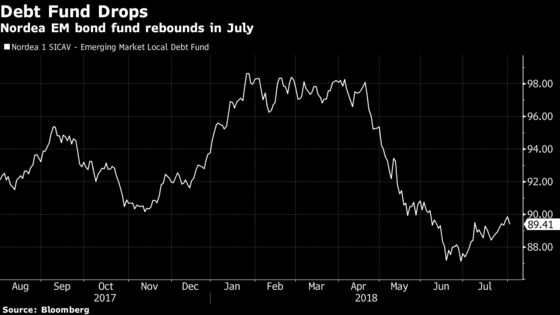 Like other emerging markets, Turkey may also be vulnerable to U.S. interest rates rising further.
"Even now the U.S. rates can move higher," he said. "That's creating some sort of headwind also for emerging market debt."
Among his top picks instead are Egypt and Kazakhstan.
Ruest helps oversee four emerging market debt funds. The biggest, Emerging Market Local Debt Fund, has lost 4.65 percent so far this year, beating the 4.71 percent loss for its benchmark, JPMorgan GBI-EM Global Diversified Composite Unhedged USD.
His funds are also overweight Russia, even amid international sanctions. "We're being compensated for the headline risk and the economy is doing fine despite the sanctions being in place," he said. "Also the central bank has not too long ago gained a lot of credibility in the market as it started to opt for inflation targeting."
Ruest in August added a new portfolio manager to his team, Lamine Bougueroua, and is planning to launch a new environmental, social and governance "Stars" strategy for the emerging market debt portfolio.
"Emerging market debt is a relatively carbon intensive asset class," Ruest said. "A lot of mining, extraction, oil, energy is happening in emerging markets. With that comes ESG issues that we want to address. It's an asset class that is more challenging."