Iran's Gold Demand at Four-Year High Days Before Sanctions
(Bloomberg) -- Iran's demand for gold bars and coins may remain strong for the rest of the year and even increase as the U.S. reimposes sanctions, pummeling the value of the rial.
The Islamic Republic's bar and coin sales tripled to 15.2 tons in the second quarter, the highest in four years, the World Gold Council said Thursday. The country accounted for about three-quarters of Middle Eastern demand for bars and coins in the quarter, up from less than half of the region's usage in 2017 and just 15 percent in 2016, according to the data. Iran's currency, the rial, slumped over the three months, prompting the rush.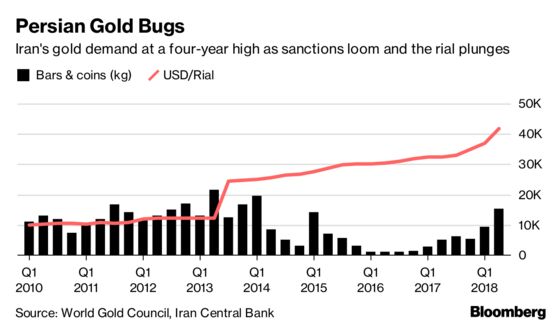 Many Iranians are fearful that their economy, already shaky from years of sanctions, mismanagement and corruption, may buckle when the U.S. reimposes an embargo on Iran's energy and financial industries in November. Simmering discontent with Iran's leaders has boiled over into sporadic protests. U.S. sanctions on Iran's precious metals trade are to take effect on Aug. 6.
"Demand will stay strong for the rest of the year, around this level or higher," said Cagdas Kucukemiroglu, an analyst at research firm Metals Focus. "Coins that were pre-sold by the central bank will continue to be delivered to the market," though jewelry sales will remain subdued, he said.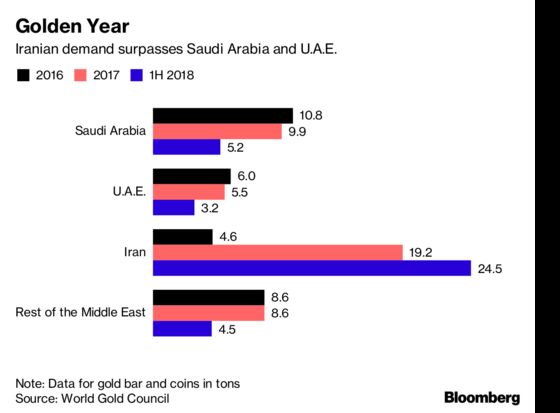 The rial weakened to an all-time low this week, trading on the black market at about 112,000 per dollar on Monday, compared with 90,000 last week. The currency recovered to 105,000 on Thursday after U.S. President Donald Trump offered to talk with his Iranian counterpart, Hassan Rouhani. Iran's central bank sets its exchange rate at less than half of the black-market level, or about 44,000 per dollar.
"Demand for physical gold is very high and has been as the currency's been weakening," said Massoud Gholampour, an analyst at Novin Investment Bank in Tehran. "People want to invest in something that's safe if they think that a crisis may be on the way."
Since withdrawing from the Iran nuclear accord in May, Trump has ramped up public pressure on the Persian Gulf nation, saying on Twitter that the U.S. won't tolerate Iran's "DEMENTED WORDS OF VIOLENCE & DEATH" -- a response to a warning that Iran's leader made to Trump.
"Clearly with a lot of the aggressive rhetoric between the U.S. and Iran, a lot of investors in Iran are looking to protect their wealth through gold," said Alistair Hewitt, the World Gold Council's head of market intelligence.