Citi Turns Bearish on Singtel After Calling DBS Stock Slump
(Bloomberg) -- Citigroup Inc.'s research team hit the bullseye last month by warning investors about the risk to DBS Group Holdings Inc. shares ahead of earnings. Now, it's aiming for two from two with a similar call on Singapore Telecommunications Ltd.
Southeast Asia's largest mobile service provider is expected to announce first-quarter results on August 8 and according to Citi analyst Arthur Pineda, the numbers are set to "surprise on the downside."
The network operator is likely to report a 19 percent decline in underlying profit to S$734 million ($538 million) this quarter, compared to the previous year, Pineda said, citing weaker earnings in Indonesia and India. A stronger Singapore dollar against currencies in the region, where Singtel has many of its businesses, will also impact earnings.
In July, Citigroup Inc.'s Robert Kong published a "Negative Catalyst Watch" report on DBS ahead of its second quarter results. And rightly so, the company reported a profit miss Thursday, sending the stock down as much as 3 percent.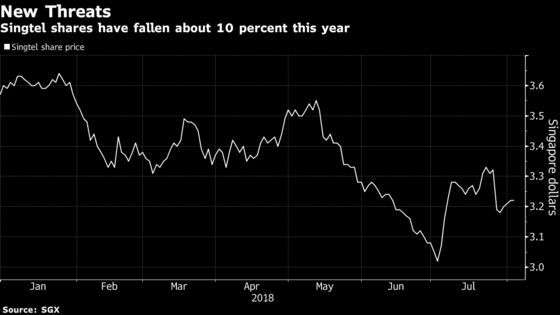 Singtel has lost almost S$6 billion in market value this year as its stock has slumped 9.8 percent ahead of impending competition in two of its major markets. Its local rivals M1 Ltd. and StarHub Ltd. have declined about 7.9 percent and 40 percent respectively, while the benchmark equity index has fallen 3.5 percent.
Still, Pineda maintains his buy rating on Singtel with a reduced share price target of S$3.80, just below the average analyst estimate of S$3.88. Singtel shares traded around S$3.21 Thursday.
In the longer term, he sees the stock providing a 6 percent yield which is "better than most" large cap stocks listed in Singapore and regional telecommunication companies.