U.S. Unlikely to Replace Loss of China Soy Buying, Bunge Says
(Bloomberg) -- American farmers can't expect soybean demand from other countries to fill the void created by China if the trade war between the countries persists, Bunge Ltd. Chief Executive Officer Soren Schroder said.
Last month, China slapped 25 percent tariffs on American soybeans and also targeted other farm goods in retaliation for U.S. duties on imports of steel and aluminum. China is instead splurging on soybeans from South America.
"That will clearly be a significant change," said the CEO of White Plains, New York-based Bunge, the world's biggest oilseed processor. "China in a normal year would take over 20 million tons of U.S. soybeans in the fourth and first quarter. That will be a hole in U.S. exports that will be difficult to fill with other business."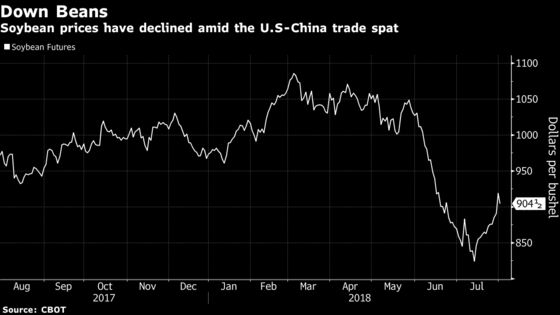 "I don't think it is likely that others can make up for the shortfall that China will have if they don't come back to the U.S. market," Schroder also said Wednesday in a telephone interview. China is currently chomping its way through supplies purchased from Brazil, and "unless there's a resolution, they will continue to buy those beans in Brazil as opposed to the U.S.," he added.
Schroder spoke after Bunge posted a surprise loss for the second quarter on wrong-way bets on soybeans. Nevertheless, he said the company is poised for a strong second half of the year, and hopes that investors will take note.
Some shareholders expressed their displeasure at the company's May shareholder meeting. The votes against Schroder's re-election almost doubled compared with a year earlier. There was also an increase in votes against some other members of the board.
"We are in contact and in communication with all our shareholders on a very regular basis and that includes the ones that voted against us," Schroder said. "We listen to them, we want to understand their points of view and we do what we can to answer their questions and concerns."