Rio's $7 Billion Windfall Points to Mining's Lesson Learned
(Bloomberg) -- Rio Tinto Group's $7 billion pledge to shareholders is the latest sign the world's biggest miners are resisting the temptation to backslide.
The mining industry has undergone a dramatic makeover since the end of the last commodity boom. Investors and management remain wary of pricey deals after much of the sector got burned by overpaying for assets and few among the largest producers see the need for major new supply growth.
Rio is generating massive amounts of cash even as cost pressures rise, and its low debt levels mean the No. 2 miner has financial capacity to move on acquisitions or projects. For now, it's holding fire. The company announced a record $2.2 billion interim dividend, said it would buy back an additional $1 billion of shares and approved plans to hand investors about $4 billion of proceeds from asset sales.
"We're not going to do anything stupid," Chief Executive Officer Jean-Sebastien Jacques told analysts Wednesday. "We're not under pressure to grow."
One area where Rio and its peers remain keen on expansion is copper. The company is already expanding a huge copper mine in Mongolia and a study on the Resolution project in Arizona, a joint venture with BHP Billiton Ltd. will be completed by 2021.
Read more: Rio CEO Says Quest to Build New U.S. Copper Giant Gaining Pace
Rio, which has returned $4.7 billion in the first half through buybacks and its full-year dividend, is not alone in funneling cash back to shareholders. Glencore Plc and Vale SA have both announced $1 billion buybacks in the last month.
With Rio unaffected so far by trade tensions, seeing only a gradual slowdown in China -- its key market -- and chasing further asset sales, the producer may have the ability to hand back even more cash with annual results in February.
"I'm pretty confident that we will return more," Jacques told reporters on a conference call.
Wednesday's report wasn't all good news though. While Rio's underlying profit rose 12 percent to $4.4 billion in the six months through June, helped by better base metals prices and higher iron ore volumes, analysts were left disappointed by rising costs that hit cash flows.
The shares fell as much as 4.8 percent, the biggest intraday drop since August last year, and traded 3.7 percent lower at 12:36 p.m. in London. Other mining stocks also fell as metals dropped on renewed U.S.-China trade tensions.
Cost inflation is biting across the sector and will make it more difficult for miners to sustain savings that have helped to protect margins from fluctuating commodity prices, according to RBC Capital Markets. Rio's result had an "undercurrent" of rising cost pressures, Peter O'Connor, a Sydney-based analyst at Shaw and Partners Ltd., said in a note.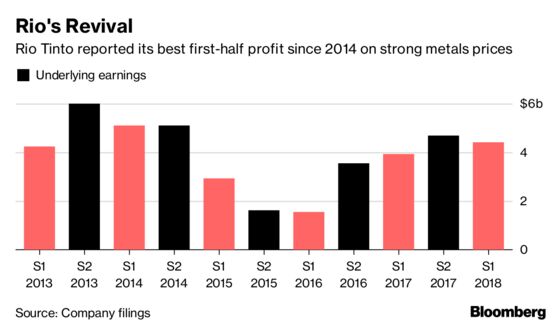 Despite its focus on shareholder returns, Rio does have growth options, Jacques said.
The producer is also building a bauxite operation in Australia and working through studies on potential developments of the Koodaideri iron ore mine, the Jadar lithium project and a mineral sands development in South Africa, according to a presentation.
Rio's balance sheet is being bolstered by asset sales announced this year of about $8.5 billion, including Australian coal mines and an agreement to exit its interest in Indonesia's Grasberg. The company will continue to sell assets, Jacques said, without giving more details.