Credit Markets Boom as Risk Appetite Keeps Trade Fear at Bay
(Bloomberg) -- Trade angst be damned: the world's credit markets are still on a roll.
Lulled by low volatility and benign technicals, yield-hungry investors are embracing risk across the capital structure, from bonds and loans to emerging debt, even as leverage and diminished protections give reasons for caution. The upshot? The lending spigot for risky borrowers remains firmly open.
"Credit investors are still comfortable taking risk," said UBS Group AG strategist Stephen Caprio. "They believe default risks are low, and a bid for yield remains."
Nowhere are animal spirits more on show than in the riskiest corners of the U.S. market. Yields on CCC bonds fell by the most in a decade on Monday, spurred by a rally in energy names.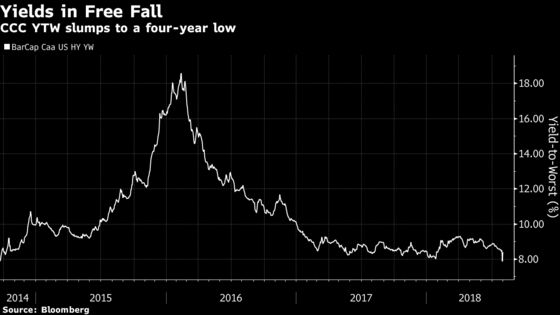 At the junk-index level, risk premiums last month posted the biggest drop since September. The asset class has been juiced by a 22 percent reduction in supply so far this year, according to UBS. New issues hit a paltry $8.4 billion in July, the lowest in more than two years.
Meanwhile, the super-cycle may be getting increasingly visceral for some investors. In an echo of credit's 2007 heyday, the market for bundled loans funding riskier projects is hot once more.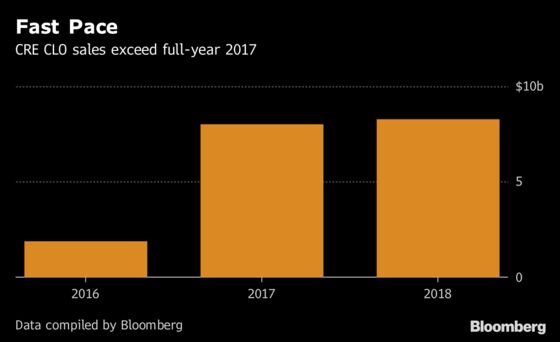 The creation of commercial real estate collateralized loan obligations is poised to reach a post-crisis record, having cratered during the global financial crisis.
Even three former enfants terrible of the bond market -- WeWork, Argentina's century bond, and Tesla 2025s, otherwise known as the WATs -- are all off their lows.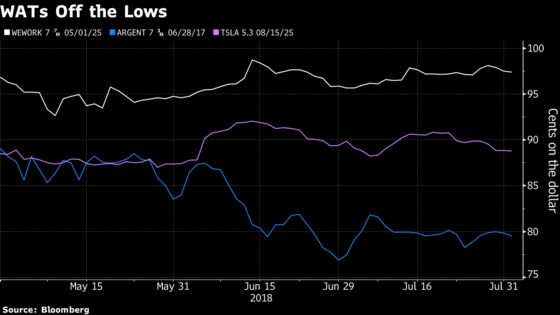 In the U.S. investment-grade space, bond spreads are moving closer to May levels as money managers make peace with interest-rate risk.
And a firmer rally may be in the offing, after strong demand for the asset class took dealer inventories to a two-year low. Hans Mikkelsen at Bank of America Merrill Lynch projects this metric of bank balance-sheet support will turn negative soon enough -- portending even tighter spreads.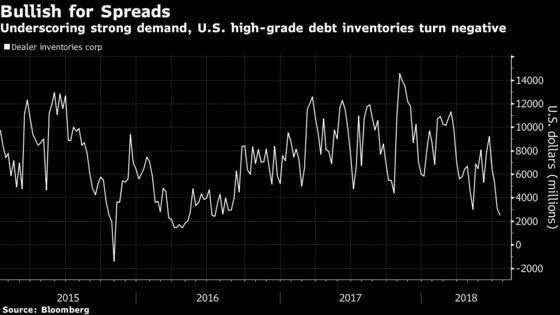 Over in the euro area, it's a similar story in investment grade. Premiums have recovered, and are now at their tightest level since late May.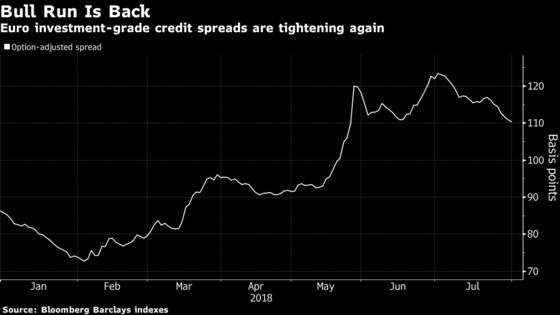 Firming risk appetite has also seen investors step back into the emerging-market bond funds they largely eschewed after February's volatility explosion. An ETF that holds local currency developing-market debt is poised for back-to-back weekly inflows for the first time since April.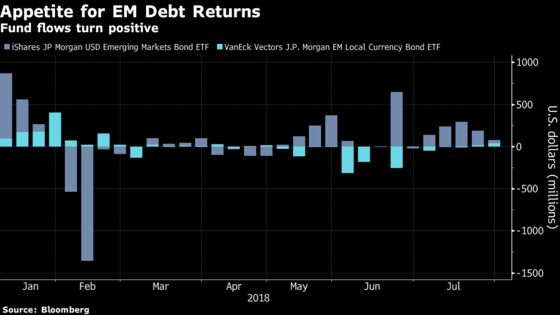 Those flows are following a stronger performance. July was the first month EM debt spreads have narrowed since January.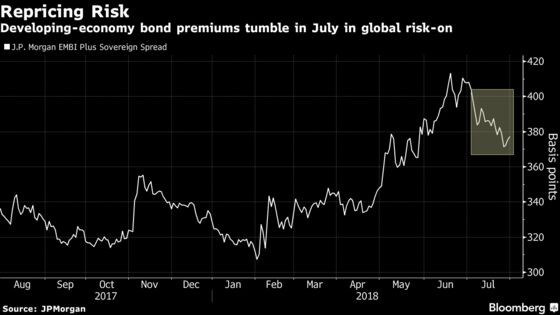 China is providing a helping hand to developing-economy sentiment. As Beijing shifts the emphasis from deleveraging to growth, credit spreads are finding a floor.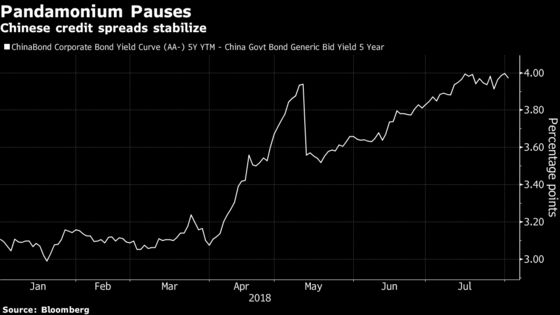 Not everyone is throwing caution to the wind, however. As global investors dive into risky exposures, U.S. derivatives traders have started hedging in earnest.
Appetite for options that pay off amid declines has surged for the $16 billion iShares High Yield Corporate Bond ETF, ticker HYG. Put open-interest hovers near a 17-month high versus bullish options, data compiled by Bloomberg show.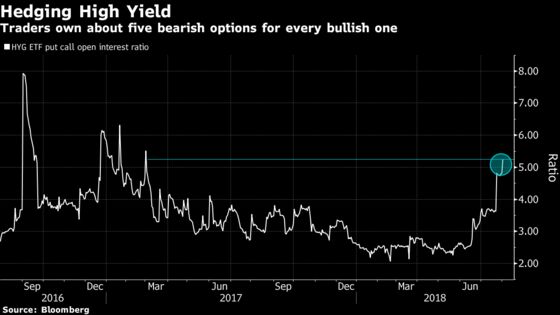 Meanwhile, the yield drop on CCC debt in the U.S. on Monday may flatter the extent of the improvement in the high-yield space, as one bond in the index was called.
And there are reasons for pause in other markets, too.
Equity investors can usually take solace from a risk-on party in credit, because corporate obligations held by smart money are typically a lead indicator for the business cycle. But while cash bond markets from the U.S. to the euro area are buoyed by low defaults and modest supply, high-flying stocks are grappling with valuation risks.
"Economic growth has been strong and seems poised to continue to be strong," said New York-based Peter Tchir, head of macro strategy at Academy Securities Inc. "That is all credit needs but it might not be enough to support all stock valuations."