Goldman Sachs Says Emerging Markets Offer Juiciest Bond Trades
(Bloomberg) -- Emerging-market sovereign and corporate bonds offer some of the best buying opportunities in the fixed-income universe after this year's selloff, according to Goldman Sachs Asset Management.
"The growth story there is still very positive," Andrew Wilson, the London-based co-head of global fixed income at Goldman Sachs Asset, said in an interview with Bloomberg TV's Rishaad Salamat and Kathleen Hays. Goldman is more skewed toward sovereign notes and is "cautious" on credit, he said.
Local-currency emerging-market government debt rose for the first time in four months in July, a Bloomberg-Barclays index shows. The notes rallied 1.4 percent, paring their loss since a peak in late January to 7.7 percent.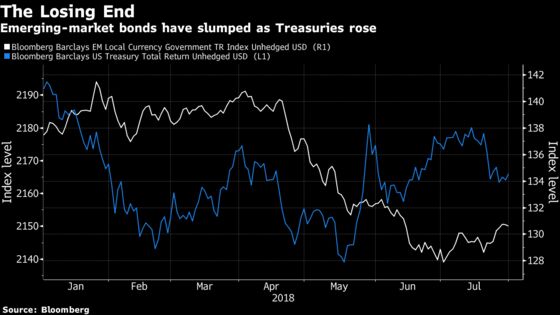 Goldman's view echoes those of fund managers including Investec Asset Management and Lazard Asset Management LLC that are betting cheap prices, solid economic fundamentals and rising corporate profits outweigh the risk of higher U.S. interest rates and an escalating trade war. Morgan Stanley is in the opposing camp and views the recent bounce-back as a "bear-market rally," it said in a note released Tuesday by strategists including James Lord.
While there's also value in emerging-market credit, investors need to be selective as many companies are ratcheting up debt levels, Wilson said.
"Still, as long as the cycle is maintained and we have that growth in the U.S., and a recession is not on the horizon, then I think corporates are a reasonable place to invest," he said.
Here are some of Wilson's other views:
U.S. yield curve flattening is not a precursor to a recession and is "more driven by demand from U.S. pension plans as they've seen their funding ratios improve"
Bank of Japan remains "locked in yield-curve control" mode following its rate decision on Tuesday. "They don't want to cause a shock but they want to give themselves some flexibility and ideally step back from buying as many bonds as they have been"