State Street Joins Morgan Stanley in Calling End of Dollar Rally
(Bloomberg) -- The U.S. dollar rally is just about finished, according to a growing chorus of Wall Street forecasters.
Morgan Stanley, State Street Corp. and Wells Fargo & Co. are some of the prognosticators saying the greenback is near its peak after gaining around 5 percent since mid-April. Currency jawboning by U.S. President Donald Trump, shifting growth expectations outside America, and tweaks to central-bank policies are among the bearish factors that could drive the greenback lower in the coming months, analysts said. For JPMorgan Private Bank, U.S. growth may have peaked with last week's gross domestic product print.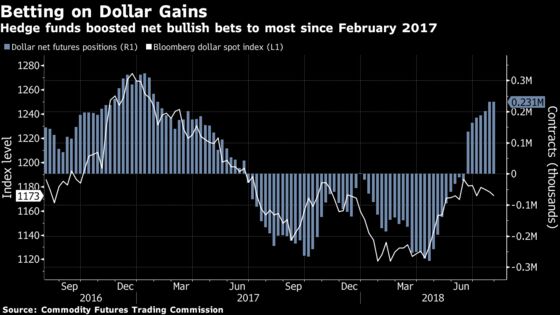 A selloff would be painful for hedge funds and other speculators who've amassed the biggest net bullish position on the U.S. currency since February 2017, based on data from the Commodity Futures Trading Commission.
"All of a sudden the popular trade is to be long dollar -- and I'm expecting they'll be a bit wrong-footed," said Michael Arone, chief investment strategist at State Street Global Advisors, in an interview. "The rapid climb that we have observed in the USD over the last couple months is just about over," he wrote separately in a report.
While Bloomberg's median survey estimate for year-end has turned more positive on the dollar, it hasn't kept pace with the currency's advance over the last three months. Strategists may need to reverse course if it turns out the greenback's gains are exhausted.
Here's what some analysts had to say:
JPMorgan Private Bank (Robert Lynch, interview)

"We think the dollar should weaken" given much of the positive news on the U.S. economy and rising rates has already been already factored into the USD; euro-zone data will probably improve
Sees euro-dollar exchange rate heading to $1.20 by year end and $1.25 by the middle of next year; currently around $1.17
Expects dollar-yen to trade at 108 by the end of 2018; presently near 112

Morgan Stanley (Hans Redeker, July 26 note)

"We think the USD has peaked and is due to reenter its secular downtrend soon"
Market consensus is "wrong" to link risk aversion and dollar strength
Other catalysts for dollar weakness include: Trump's comments on currencies, weaker U.S. economic survey indicators, Chinese economic measures and tweaks to Bank of Japan policy

Toronto-Dominion Bank (Mark McCormick, interview)

"We think the USD is in the last inning of the recent rally as the rest of world growth gets back on track, policy normalization outside the U.S. persists and the one-way dollar bet gets squeezed"
Sees Dollar Index declining and recommends fading rallies near 95; gauge currently around 94.5
Expects Canadian and Australian dollars to underperform undervalued currencies such as euro and yen "as the market rewards currencies of countries with current account surpluses on the end of easy money"

Wells Fargo (Erik Nelson, July 27 note)

"With U.S. growth set to slow going forward, and with the Fed rate hike pace also likely to slow from its current 'automatic' pace, key fundamental drivers of this year's greenback strength are likely to fade"
"In tandem with a likely slowdown in U.S. economic growth, the potential lessening in interest rate support for the U.S. dollar by next year should pave the way for the next leg of greenback weakness"