Investors Take a Shine to Dental Stocks, Doubting Amazon Threat
(Bloomberg) -- Veteran investors are suddenly turning to dental stocks.
Two general investors who don't specialize in health care have been taking advantage of an FTC investigation plaguing dental suppliers and the Amazon-inspired "panic" over the past year to establish positions in Henry Schein Inc., one of the top distributors of dental products in the U.S. While the stock recovered 14 percent this year, it's still down almost 13 percent in the past 12 months and is hovering near the lowest level since late January.
"The Amazon threat is very exaggerated for this industry," said Abhay Deshpande, who manages more than $500 million in assets for Centerstone Investors. Henry Schein's scale and "high-touch" business model is "hard to replicate from just a pure online model."
Centerstone, for one, boosted its stake to more than 100,000 shares in the second quarter, and is ready to buy more as opportunities arise, Deshpande said.
Amazon is not Paul Hogan's "main fear" either. The analyst for Fenimore Asset Management Inc., which manages $2.9 billion in assets, acknowledges other challenges facing the dental industry, including the rise of buying groups, but sees Henry Schein as "best positioned" to address these headwinds.
"They have a history of executing," he said in a telephone interview. "And the number two competitor, Patterson, is wounded and really struggling to get things fixed up."
Fenimore, which owns about half a million shares, is hopeful that Schein's shift to higher-margin products will help counter rising competition and pressures in its consumables segment. Hogan also sees the distributor's decision to spin off its animal health unit as unlocking value.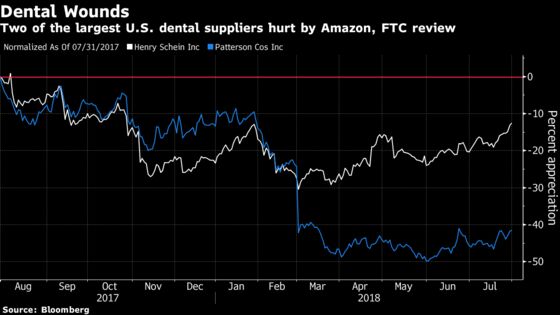 As investors turn their focus to second-quarter results on August 6, Stifel analysts have cautioned that the industry's "structural changes are real," with the concentration of group purchasing organizations and the consolidation of small dental offices posing a threat. Goldman Sachs this month also warned that Henry Schein may have "some EPS downside" in 2019.
"If they do disappoint, we will take it as a buying opportunity," Deshpande said.
But if Schein can meet its targets, "it's a signal that they're able to grow through some of these headwinds out there," says Fenimore's Hogan. "That may put some of those fears to rest."