What to Watch For in Australia's August Earnings Season
(Bloomberg) -- Cash returns, China and challenges in the banking sector are just a few of the things to watch out for during Australia's earning season this month.
The reporting season kicked off with Rio Tinto Group, the world's No. 2 mining company, which raised its dividend more than estimated while pledging to return over $7 billion to investors after a spree of asset sales.
Shareholders will also be keen to know how the nation's largest companies are handling a stretched domestic consumer amid a downturn in house prices. The trade spat between the world's two largest economies and how that impacts demand for Australia's raw materials will also be front of mind.
Still, company earnings are expected to rise about 18 percent in the next 12 months, up from about 11 percent in February, according to data compiled by Bloomberg, as demand for Australia's iron ore remains robust and oil prices surged. The benchmark index hit the highest in more than a decade in June as investors initially brushed off U.S.-China trade tensions amid buoyant commodity prices and healthy dividends.
Here's what else to look for in the August reporting season:
Among the top 100 stocks, those reporting in August are set to pay out about A$27 billion ($20.1 billion) in dividends, 2.7 percent more than the same time last year, according to data compiled by Bloomberg.
Aurizon Holdings Ltd. is expected to lead gains, with its payout tipped to rise 56 percent year on year amid regulatory uncertainty surrounding changes at its Queensland business. Copper miner OZ Minerals Ltd. is seen lifting its dividend by 50 percent as the company reaffirmed its 2018 output target and revealed a A$454 million cash balance.
At the other end, Telstra Corp.'s dividend is set to be cut almost 30 percent and retailer Woolworths Group Ltd. is tipped to shave 20 percent off its return, according to Bloomberg dividend forecasts.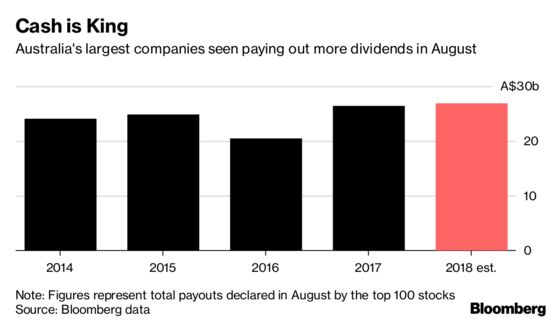 Afterpay Touch Group Ltd. has more than doubled its share price in 2018 after forecasting full-year revenue above analyst estimates last month. Watch for management commentary on possible expansion beyond the United States. The stock, deemed the "next generation PayPal" by Bell Potter Securities Ltd., is also an attractive takeover target, Goldman Sachs Group Inc. analysts wrote in a June 28 note.
Bellamy's Australia Ltd., back in the ASX 200 after being removed amid an investor revolt, may report a 50 percent gain in earnings year-on-year. Watch for updates on the development of a joint venture with Fonterra Co-operative Group Ltd. and approval from Chinese regulators to export dairy products from its Camperdown facility.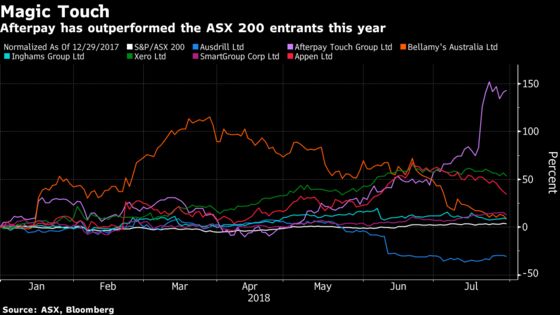 But it's not all smooth sailing for new entrants in Australia's benchmark index.
Ausdrill Ltd., set to welcome former Thiess executive Mark Norwell as CEO in September, may provide commentary on the hit to earnings from the 35 percent reduction in works at the Super Pit as well as the halving of a contract at a Mineral Resources Ltd. mine.
Inghams Group Ltd., which became the most shorted stock on Australia's benchmark index in July, may provide commentary around falling prices in New Zealand and a replacement for Chief Executive Officer Mick McMahon, who step downs this month.
Commonwealth Bank of Australia, the worst performer of the so-called Big Four this year, is the only major bank to report in August. It's also the first full-year earnings report for new Chief Executive Matt Comyn as he reshapes the scandal-plagued lender.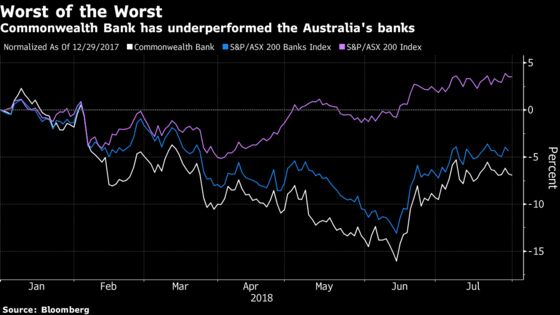 Since taking over from Ian Narev in April, he has paid a record A$700 million penalty for systemic breaches of anti-money laundering rules, settled rate-rigging claims and is in the process of ridding businesses that have inflicted significant damage to its reputation. Revelations at a public hearing triggered by Commonwealth Bank's scandals -- from allegations that sick customers were denied insurance payouts to planners putting clients into high-risk investments for personal gain -- have shocked the public and led analysts to downgrade industry-wide profit forecasts in anticipation of a tougher future.
Keep watch on what else is to come out of the bank as Comyn draws a line under the tenure of his predecessor and the impact to profit from rising compliance and funding costs. The timing and progress of the spin off of its wealth management and mortgage broking units, which may create a company as large as AMP Ltd., will also be of interest.
4. China Hustlers
As the world watches the trade spat unfold between the U.S. and China, Australian companies scramble to secure their footing in the lucrative Asian market.
A2 Milk Co., a company facing increased competition for its infant formula products, has fallen 27 percent from its March record after Nestle SA moved to sell A2-protein only baby formula in China. A2's operating margin may narrow as it lifts spending for marketing and to support its expansion into the U.S.
Cleanaway Waste Management Ltd. and Sims Metal Management Ltd. are two companies to watch for insight into where reused commodities are shipped after China imposed strict standards on imported waste, roiling the global recycling system.
Both Bellamy's Australia Ltd. and Treasury Wine Estates Ltd. full-year results may also reveal souring relations between Australia and China. Bellamy's is awaiting approval from regulators for its infant formula products, while Treasury Wine in May said customs officers had delayed shipments due to new requirements that "seemingly only apply to Australian Country of Origin wines."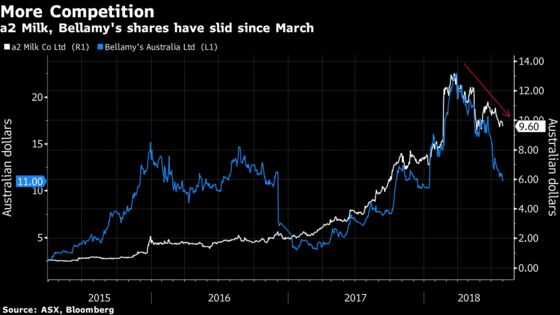 Crown Resorts Ltd. and Star Entertainment Group Ltd. will give an indication on the health of Australia's tourism industry as they court a wave of Chinese tourists heading down under.
It's the first look at Crown's existing properties after billionaire James Packer left day-to-day running of the business, as the casino operator continues to build a new six-star resort in Sydney to challenge the incumbent Star.
Separately, Star is juggling a string of multi-billion dollar property and casino developments on Australia's east coast to woo big-spending Chinese tourists after Chow Tai Fook Enterprises Ltd. and Far East Consortium International Ltd. took a stake in the business.
Read More: Star CEO Says Sydney Table Gaming Will Be Battlefield With Crown
Watch how Coca-Cola Amatil responds to headwinds it's facing in Australia and Indonesia. The company in May said beverage unit earnings Down Under would be negatively impacted as A$40 million in cost savings is reinvested amid pressures from the container deposit scheme in New South Wales state and lost shelf space. Meantime in Indonesia, its second biggest revenue unit, sales volumes are declining.