Bond Traders See Fed as Only Game in Town for Policy Tightening
(Bloomberg) -- Global bond markets are sending a clear signal: The Federal Reserve is the only central bank worth wagering on when it comes to tightening policy.
Two-year Treasury yields are close to a record high relative to their German and U.K. counterparts, while versus Japan the gap is about the biggest since 2007. Traders are now looking to Wednesday's decision by the Fed, which is expected to reaffirm its plan to gradually raise rates amid a tight labor market.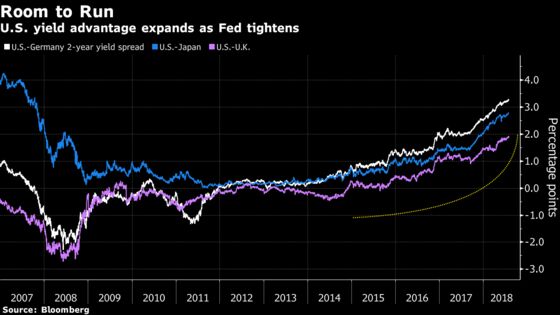 While U.S. traders may not be fully on board with the Fed's projected hiking path, they're comfortable pricing in a third 2018 hike in September. Meanwhile, officials at the European Central Bank and the Bank of Japan have barely left base camp in their attempts to curb crisis-era stimulus. And investors have little confidence the Bank of England will follow an anticipated hike this week with further increases. What it all adds up to is that anyone betting on synchronized global tightening is seeing their hopes dashed.
Instead, investors are left watching incremental shifts in "the pace of the Fed tightness versus the pace of the less easiness of the ECB or BOJ," said Gary Pzegeo, head of fixed income at CIBC Private Wealth Management, which oversees about $52 billion. "On an absolute basis, the Fed is the tightest game in town for now."
In a week that started with traders anticipating a possible shift in the BOJ's stance, Wednesday's Fed decision is set to refocus the market on the prospect of U.S.-led policy divergence. Traders will be looking in particular for the Fed to reinforce its intention to hike for a fourth time this year, as that pace isn't yet fully factored into futures prices.
Japanese officials wound up introducing more flexibility to their massive stimulus program, but quashed speculation that they'd signal a move toward withdrawing accommodation. Meanwhile, the Brexit impasse has traders doubting the BOE will hike beyond this week. And the ECB has pledged to keep rates at record lows "at least through the summer of 2019."
The euro region's growth may be showing signs of slowing, but a robust U.S. economy, kicked into overdrive with the help of fiscal stimulus, has intensified the divergence in expectations for monetary policy. America's gross domestic product expanded last quarter at the fastest pace since 2014, with some analysts crediting last year's tax overhaul.
"The decoupling that's being observed is almost 100 percent a function of politicians in the U.S. doing things that politicians in Europe, and Japan and the U.K. just haven't done," said Torsten Slok, chief international economist at Deutsche Bank AG. "All of this has been providing more tailwinds to the already wide yield spreads we had between U.S. 10-year Treasuries and bunds, and Japanese government bonds."
Nevertheless, U.S. money-market traders aren't convinced the current state of the economy warrants a tightening path as aggressive as the Fed is indicating. That skepticism may be at least in part a function of muted inflation expectations. Bond traders still see wage pressures remaining tame, even with the U.S. jobless rate close to the lowest since 2000.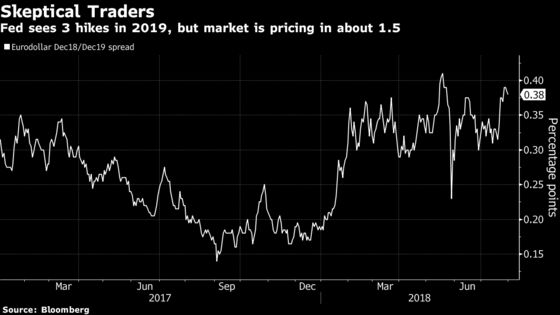 The upshot is that for all the doubts about how much the Fed will lift rates in this cycle, investors at least have a roadmap to consult. And that's more than they'll get anywhere else.