BlackRock's Turkish Bond Holdings Rise as Prices Slide
(Bloomberg) -- BlackRock Inc. Turkish bonds holdings are on the increase even as Goldman Sachs Group Inc. says the country's policy makers are "doing everything wrong."
Out of the five most-traded Turkish dollar bonds, the world's biggest money manager's positions in four increased in the third quarter, according to a filing on July 27. That's barely a month after the average yield on Turkish dollar debt jumped to the highest since 2009, according to Bloomberg Barclays indexes.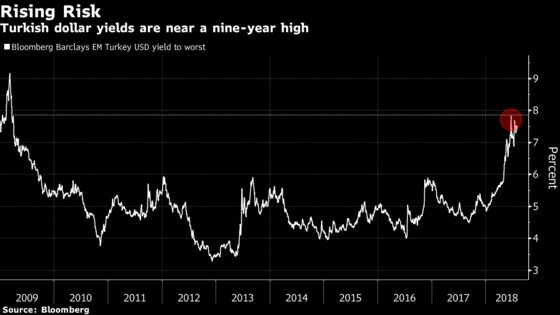 BlackRock's view matters because it's the biggest single holder of Turkish debt, with $2.5 billion, including index-tracking passive funds, more than twice the holdings of the next-biggest investor, Allianz SE, according to data compiled by Bloomberg. Sam Finkelstein, head of emerging markets at Goldman Sachs Asset Management, warned last week of a "vicious cocktail" for Turkish assets including U.S. threats to sanction the country and the central bank's decision to unexpectedly hold rates last week.
Investors in Turkish hard-currency bonds lost almost 8 percent this year, the worst performance after Argentina among emerging markets peers, amid concerns about political interference in monetary policy and credit-rating downgrades. But the slump lifted yields to levels where some investors see value. The average yield on Turkish dollar debt of 7.45 percent compares with the emerging-market average of 6.12 percent.
BlackRock holds Turkey's lira-denominated notes maturing in February 2021 and March 2023 in its $6.4 billion emerging-markets local-currency bond fund, according to data compiled by Bloomberg. The fund has lost 8 percent this year, underperforming 9 out of 10 of its peers.
A London-based BlackRock representative declined to comment for this story.
Turkey's central bank on Tuesday acknowledged it won't meet its 5 percent inflation target for three more years, disappointing investors seeking signs that monetary policy would tighten.