An Investor Just Bought $122 Million of State Street's Junk ETF
(Bloomberg) -- At least one investor appears to be bingeing on junk bonds.
About 3.4 million shares worth $122 million of State Street Corp.'s SPDR Bloomberg Barclays High Yield Bond ETF, or JNK, moved in a block purchase at 9:47 a.m. Tuesday. The trade boosted the fund's volume to about nine times its 20-day average for that time of day.
"Investors may be positioning themselves risk-on in high-yield as traders chase a range breakout," said Josh Lukeman, head of ETF market making for the Americas at Credit Suisse Group AG. "The appetite for yield remains strong."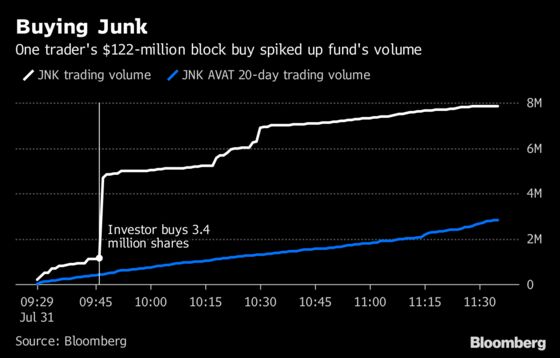 During a year in which fixed-income investors have lost money at just about every turn, high-yield debt has been a sanctuary. The Bloomberg Barclays US Corporate High Yield Bond Index has gained about 1.2 percent in 2018, while the Bloomberg Barclays U.S. Corporate Investment Grade bond index has tumbled 2.6 percent and the Bloomberg Barclays Global Agg Treasuries index has declined 1.2 percent.