Surprise Outlook Cuts at GM, Fiat 'Catch Bulls Offsides'
(Bloomberg) -- The brewing storm of trade worries that have been hanging over the auto sector made landfall on Wednesday as two of the biggest U.S. carmakers, General Motors Co. and Fiat Chrysler Automobiles NV, lowered their outlooks for the year.
Fiat shares plunged as much as 15.2 percent in New York trading, while GM sank 8.2 percent; global auto stocks were also under pressure with Ford - which reports today after the U.S. market close - down 4.3 percent, Daimler AG - which reports results tomorrow and already cut 2018 outlook last month - declining 2.3 percent in Germany, and Volkswagen AG down 3 percent.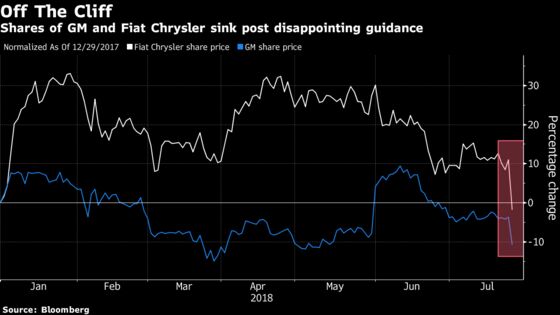 Here's a round up of analyst commentaries following the results that are weighing down the entire auto sector today, including carmakers, suppliers, dealers and auto parts retailers.
Evercore ISI, George Galliers
On Fiat: Difficult to see Fiat Chrysler outperforming in the coming months; "given we expect negative revisions of about 3 percent to 9 percent at the Ebit line for this year, it is difficult to foresee any positive revisions to 2019 being made until the beginning of next year."
"It was the change in duty in China which also negatively impacted Maserati, with some consumers delaying their purchase decision and others looking for price reductions."
On GM: Says the "surprising automotive guide-down to catch bulls offsides."
Morgan Stanley, Adam Jonas
On Fiat: Ebit was 24 percent below the brokerage's estimates due to misses in NAFTA, APAC and EMEA regions, as well as at Maserati; Jonas says would use a decline in the share price as an opportunity to increase exposure, notes that its overweight thesis is also based on "an efficient redeployment of capital relative to peers that we believe is not fully priced in."
On GM: "This guidance is roughly 5 percent below our forecast... Our previous forecast already includes a material decline in earnings per share due to building cyclical and competitive/cost pressures."
Jefferies, Philippe Houchois
On GM: "While we were expecting an end to earnings resilience, this is slightly worse than feared for second-quarter and full-year outlook."
Buckingham, Joseph Amaturo
On GM: "Given that Fiat Chrysler just announced similar financial performance and commodity impacts this morning, we believe shares of GM and the entire sector will come under pressure today as our cautious, long-term thesis on GM has apparently been pulled forward."
"GM's revision to guidance will heighten 'peak earnings fears' among investors."
"We believe there is risks of higher interest rates, commodity prices, volume/mix and declining average transaction prices at this point in the cycle for most original equipment makers and suppliers."
Consumer Edge, James Albertine
On GM: "More restructuring is necessary, which is evident again in second quarter as management cites weaker foreign exchange impacts in South America contributing to materially lower 2018 earnings per share guidance."
"We remain more positive on GM's long-term outlook relative to the vast majority of its peers despite this EPS guidance reduction and would be buyers on today's weakness."
AlphaValue, Hans-Peter Wodniok
On Fiat: Profit figures are "certainly not good" even though shipments were sharply up. Development in NAFTA, APAC and at Maserati were "particularly disappointing," Wodniok says, adding that the group is clearly losing market share in EMEA, resulting in heavy price pressure.