Surging Hong Kong Stock Buybacks May Set Stage for Rebound
(Bloomberg) -- Hong Kong-listed companies are bargain hunting their own shares at the fastest pace in more than two years, indicating that a rebound for the city's stock market may be close.
At least 70 companies repurchased their stocks this month, the most since January 2016, after 56 firms did so last month, data compiled by Bloomberg shows. The last two times buybacks surged by similar levels in 2016 and 2011, the Hang Seng Index climbed at least 18 percent over the next 12 months.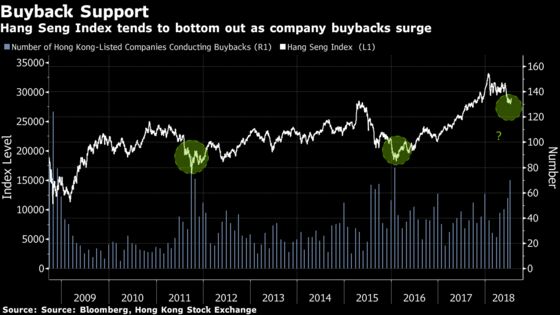 "Surging buybacks are usually a signal that the current share price discounts a company's real earnings growth potential, as no one would know more about the company than its management," said Kenny Wen, a Hong Kong-based strategist at Everbright Sun Hung Kai Co. "It is a signal to the market that a rebound is not far away."
Hong Kong's benchmark Hang Seng Index has lost 13 percent since its January high as trade tensions between China and the U.S. worsened, the yuan slumps and data shows a deepening slowdown in the world's second-largest economy. The gauge fell 0.5 percent on Friday.
When Hong Kong share repurchases saw a similar jump in January 2016, the Hang Seng Index had fallen to the lowest in over three years, as a slide in the city's dollar spurred concerns over capital outflows and A shares entered a bear market. The index then bottomed out in February, and rebounded 29 percent over the following 12 months.
About 123 companies have sought to repurchase their shares since the Hang Seng Index fell from its January high. That compares with about 152 firms last year. Chinese developers China Evergrande Group and Shimao Property Holdings Ltd. are among those that have spent most in share buybacks during the rout, according to Bloomberg calculations.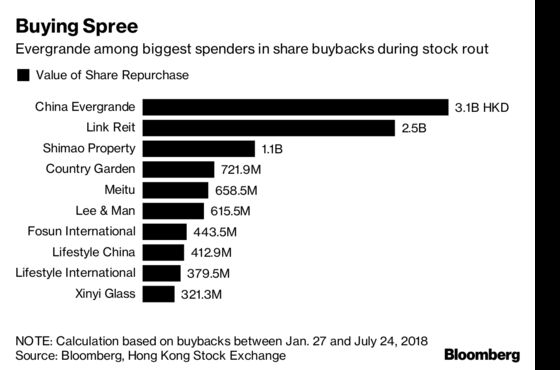 While rising buybacks may indicate cheap valuations, they may also reflect doubts about the business outlook as companies spend cash on shares instead of business expansion, said Banny Lam, head of research at CEB International Investment Corp.
Four out of the top five most aggressive buyers are developers. Real estate has been among the worst-performing sectors on the MSCI China Index since the January peak, weighed down by concerns about tightening credit amid China's deleveraging campaign and the rising cost of repaying dollar-dominated debt as the yuan slumps.
Beijing's recent efforts to invigorate the economy has restored some confidence, however. "Investors would consider the buybacks as a positive signal and if the markets start to rebound, developers are likely to lead the rally," said Toni Ho, analyst at RHB Osk Securities Hong Kong Ltd.
Read more about China developers' share buyback activities here
The pace of buybacks in Hong Kong has been accelerating in recent months. According to BOCI Research Ltd., the amount spent on stock buybacks in the Hong Kong stock market reached HK$1.7 billion ($217 million) in May, HK$2.9 billion in June and HK$3.6 billion for the period through July 12.