S&P 500 Index Momentum Hasn't Been This Strong Since January
The S&P 500 Index's 14-day relative strength index -- a gauge of the magnitude and persistence of price fluctuations -- rose to levels unseen since January on Wednesday.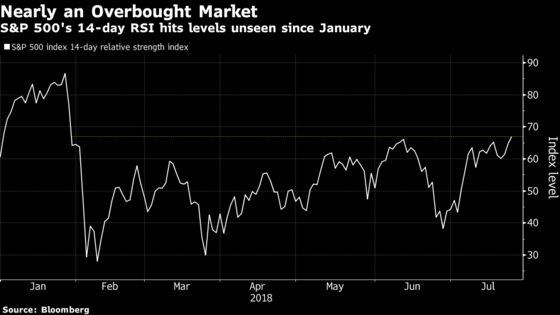 The U.S. equity benchmark still lingers about 1.5 percent shy of its Jan. 26 record close.
An RSI above 70 indicates the security is in technically extended or overbought territory, while prints below 30 suggest it's oversold.
This rise in the RSI is a far cry from January's equity market euphoria, when the S&P 500's relative strength reached levels unseen since 1961. Major bourses around the world were in overbought territory to start the year, and the Hang Seng China Enterprises Index didn't post its first loss until the 25th day of the new year.