Rosy Homebuilder Earnings May Not Be Enough to Calm the Bears
(Bloomberg) -- Analysts say the housing market is in solid shape, but that may not matter to spooked shareholders when D.R. Horton Inc. and PulteGroup Inc. report quarterly results before the market opens on Thursday.
With fears swirling about higher labor and materials costs and rising interest rates, the homebuilders will need to prove themselves by demonstrating solid order growth and stable gross margins. Tomorrow's earnings reports follow a four-day selloff in the sector driven by a decline in U.S. new-home sales and disappointing results from building and appliance companies including Owens Corning and Whirlpool Corp.
"Investor sentiment remains highly cautious heading into earnings, with most seeking greater clarity around price/cost, FX, and the underlying health of the U.S. housing market," RBC analyst Mike Dahl wrote in a note to clients. "We think builder set-ups remain more challenging and even on beats investors likely sell into strength."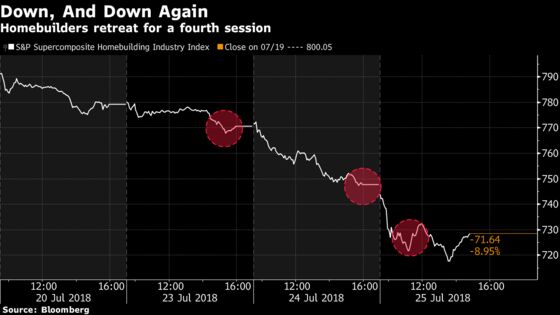 Read more below to find out what others are watching for this earnings season.
"We believe the recent tax bill, rising labor and material costs, rising interest rates, tariffs and recent economic and housing indicators have created lots of noise in the market that has spooked some investors," B. Riley FBR's Alex Rygiel said. "However, on a relative basis, the housing market remains solid and we expect it to remain in an expansion phase over the next couple of years."
"We believe that investor fears around mortgage rates have begun to dissipate somewhat but concerns around continued rises in input costs (compounded by potential new tariffs) are deepening," wrote MKM analyst Megan McGrath. "Continued solid order growth and gross margin stability will be the keys, in our view, for homebuilder stocks this earnings season."
"Investors continue to express concern that rising rates and inflation are signals that we are approaching a cycle peak," said Credit Suisse's Susan Maklari. "Although affordability is a rising concern, we look for results this quarter to be in-line with optimistic expectations as fundamentals remain intact and our channel checks indicate above trend growth – including a more gradual entry into the summer slowdown."
"Homebuilders and building products continue to reflect a high degree of investor concerns regarding interest rates, the duration/sustainability of the cycle and for building products specifically, input cost inflation and more recently, currency headwinds," JPMorgan analyst Michael Rehaut wrote. "For the homebuilders, we expect solid fundamentals out of the quarter, which in turn should serve as a modest positive catalyst for the stocks (as rate fears may continue to impede a stronger reaction.)"
D.R. Horton Analyst Commentary
MKM: "With homes more focused on the lower-end of the market (with buyers potentially more interest rate sensitive) we believe that DHI may be entering this quarter with a bit more to prove in terms of its ability to continue to drive solid order growth."
RBC: "Aside from order and margin trends, we think investors are focused on preliminary guidance for FY'19 as well as a planned update to FOR guide. Our expectation is that FY'19 will be another year of double-digit rev growth (we est. revs +11%) but that margins may start to flatten out particularly on GMs as the recent uptick in optioned land leads to some downward pressure along with rising entrylevel competition."
Credit Suisse: "One of our top picks this quarter, we look for DR Horton's acumen within the entry-level, above average level of spec construction (allowing it to more effectively respond to labor shortages) and continuous focus on cost controls to drive outperformance."
3Q EPS estimate $1.08 (range $1.02-$1.14)
3Q revenue estimate $4.32 billion (range $4.25 billion-$4.47 billion)
3Q gross margin estimate 20.7%
3Q order growth estimate 12.85% (Bloomberg survey of four estimates)
2018 revenue estimate $16.20 billion (range $16.07 billion-$16.47 billion); D.R. Horton forecast $

15.9

billion-$

16.3

billion
2019 revenue estimate $18.09 billion (range $17.30 billion-$18.71 billion)
D.R. Horton forecast 2018 gross margin of 20.5%-21.0% and 2018 homes closed of 51,500-52,500
PulteGroup Analyst Commentary
JPMorgan: "We expect PHM to lag its peers this earning season, based on outlook for modestly below average order growth of 8%, modest sequential gross margin contraction of 30 bps and already solid relative performance since Feb-end."
MKM: "We are expecting to see a slowdown in PHM's order growth in the quarter, as the company has previously indicated its community count growth would slow in 2Q and we are looking for a slight sequential decline in gross margins due to mix."
Credit Suisse: "We maintain our positive view on Pulte's risk adjusted strategy as mgmt. seeks to maximize returns even as it gradually shifts to greater sales of lower priced homes."
2Q adjusted EPS estimate 75c (range 68c-79c)
2Q revenue estimate $2.37 billion (range $2.34 billion-$2.47 billion)
2Q gross margin estimate 23.3%
2Q order growth estimate 9.65% (Bloomberg survey of four estimates)
PulteGroup forecast 2018 gross margins of 23%-23.5% and closings of 22,500-23,500