Metals Markets See Zero-Tariff Future on Trump-Juncker Meeting
(Bloomberg) -- Metal markets upended by President Donald Trump's trade policies may find that tariffs between the U.S. and European Union can disappear just as quickly as they came into force.
Trump and European Commission President Jean-Claude Juncker said Wednesday they would "resolve" steel and aluminum tariffs as they work to reach a larger agreement aimed at eliminating all duties and averting a transatlantic trade war. The two men said they will suspend new tariffs while negotiating.
The announcement came just four months after Trump said the U.S. would impose a 25 percent tariff on steel imports and 10 percent on aluminum, prompting retaliation from the European Union and other trading partners.
"We're starting the negotiation right now, but we know very much where it's going," Trump said. "We also will resolve the steel and aluminum tariff issues, and we will resolve retaliatory tariffs."
U.S. Steel Corp., AK Steel Holding Corp. and Nucor Corp., which benefit from the protectionist tariffs, fell in after-hours trading in New York. The Bloomberg Dollar Spot Index also declined, helping make commodities priced in the greenback more attractive to holders of other currencies. Copper futures, which have slumped on concern a global trade war could crimp demand for raw materials, climbed as much as 2 percent to $2.867 a pound in after-hours trading on Comex in New York.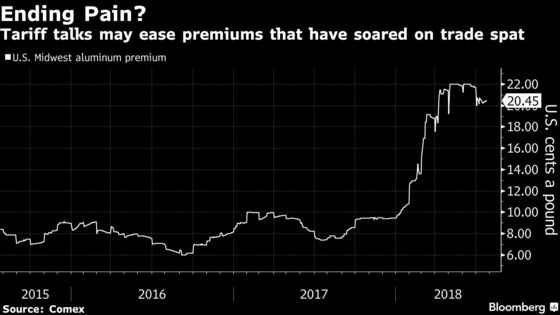 Benchmark domestic steel prices have surged more than 40 percent this year, while the premiums buyers pay to have aluminum delivered in the U.S. Midwest more than doubled as the tariffs boosted import costs. That's hit metals consumers.
"On the margin, it's a positive development," Daniel Ghali, commodity strategist at TD Securities in Toronto, said in a telephone interview. "A weakening U.S. dollar and some sense of emerging markets having found a bottom will likely support industrial metals."
A trade deal on tariffs between the U.S. and the EU "should be a little bearish because that would resume the flow of metals into the States," Edward Meir, an analyst at INTL FCStone, said in a telephone interview Wednesday. Aluminum "could get a bit of a sell-off, but not a big drop. It should also be bearish for premiums," he said.