It's Not Just FAANG. Euro Stock Pickers Can Win Big, Too
(Bloomberg) -- For active money managers looking for an edge in equities, it turns out FAANGs are not a must have.
Even as companies like Apple Inc. and Amazon.com Inc. surge toward $1 trillion in market value, America is no better as a stock-picking destination than Europe, according to a new study from Societe Generale SA.
In fact, quants at the bank found that a manager who perfectly predicted the top stocks in each region would find herself with two portfolios that have nearly identical returns over a three-year period.
"With the dominance of the FAANGs, we'd guess that most investors would choose the U.S.," Andrew Lapthorne, global head of quantitative strategy at Societe Generale, wrote in a report this week. Yet, "the opportunity set in both regions looks equivalent," he said.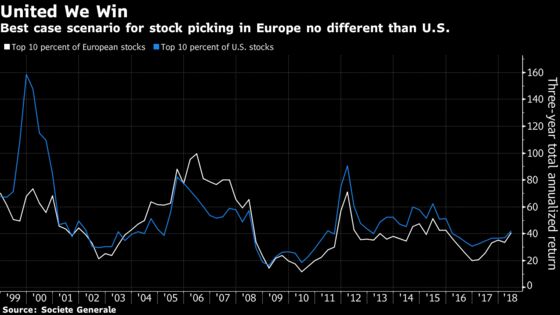 The findings stand out because the so-called FAANG shares -- Facebook Inc., Apple, Amazon, Netflix Inc., Alphabet's Google -- have been at the heart of the American and global bull market in stocks. A lack of high flying tech companies, meanwhile, has dogged European equity gauges in the later stages of the rally. The Euro Stoxx 600 Index has dropped about 0.6 percent in 2018, compared with a 5.6 percent advance for the S&P 500. Amazon alone accounts for more than a fifth of those gains.
Buying the best performing 10 percent of U.S. stocks results in a 42 percent three-year annualized return, according to Societe Generale. In Europe, the payoff is 41 percent. There's also little daylight between the losers -- the bottom 10 percent in the U.S. dropped 12 percent as those in Europe lost 13 percent.
Yet U.S. active stock funds continue to attract more assets. Domestic equity was the most popular active strategy in the U.S. last year and only the 10th most popular in Europe, data from Boston Consulting Group Inc. show.
Lapthorne's study did find that among the "winner" portfolios, the American group had a much larger market capitalization that was dominated by technology stocks. Organizing the basket by market cap, the U.S. beats Europe by a handy 14 percentage points. And since major gauges allocate according to size, U.S. stocks outperform on the index level.
"Having bigger winners leads to better overall market performance," Lapthorne said in a separate message. "But the overriding point is that for the benchmark agnostic (and obviously with perfect foresight!) the potential to make money in Europe is there."