Going for Gold: Nomura Picks Six Stocks for Tokyo Olympics Theme
(Bloomberg) -- The 2020 Tokyo Summer Olympics might be two years away but Nomura Holdings Inc. is getting a jump start on investment themes for clients.
In a 45-page report, analysts led by Hisao Matsuura named six stocks that are most likely to benefit from the sporting event: Taisei Corp., Bic Camera Inc., Dentsu Inc., Seibu Holdings Inc., ANA Holdings Inc. and Secom Co. Ltd.
The "Golden Six" stand to gain with "rare marketing opportunities for their products, services, and initiatives not just in Japan, but throughout the whole world," according to the note dated Tuesday -- exactly two years ahead of the Olympics.
Why these companies? They operate in industries in which Nomura expects to see an increase in demand for their services: construction, cement, housing and real estate, transportation, security, media and consumer electonics.
And the proof is in the numbers. Since Tokyo was announced as the host city five years ago, half of the "Golden Six" have rallied past the Topix index.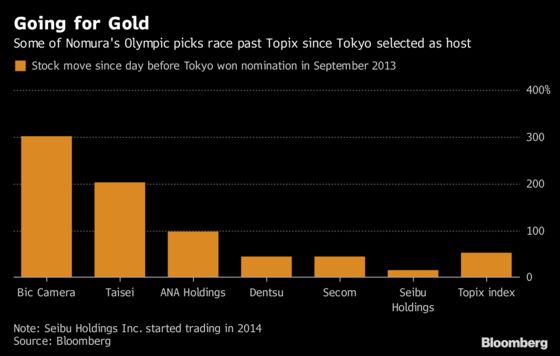 There's one note of caution. Some investors may worry that the post-Olympics repercussions could be similar to when the nation's capital hosted the games in 1964, the analysts said. The event's strong economic impact wasn't enough to shield Japan from going into a recession the following year. "Worries about what will happen after the 2020 Olympics are stronger in Japan than expectations toward the Olympics."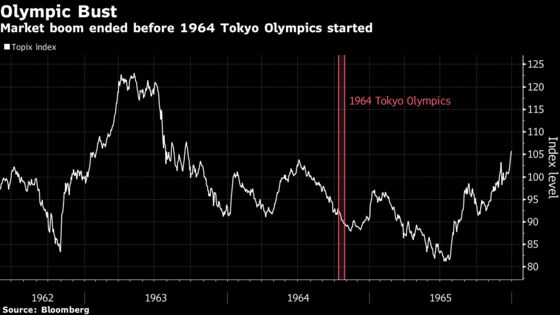 However, the infrastructure investments will be smaller for the 2020 games, so the economic impact shouldn't be viewed in the same manner as for the 1964 event, Nomura's analysts said. In fact, 13 out of 14 Summer Olympics were followed by an advance in equity markets in the host country, they said based on data available.
Nomura expects the Nikkei 225 Stock Average to hit 27,000 by summer next year, and break through 30,000 in mid-2021. It closed at 22,614.25 Wednesday.