GM Falls Victim to Trump's Trade War as Metal Prices Sink Profit
(Bloomberg) -- General Motors Co. has become the highest-profile American company to fall victim to Donald Trump's trade wars by cutting its profit forecast for this year on surging prices for steel and aluminum.
Adjusted earnings will drop to about $6 a share, down from a previous projection for as much as $6.50 a share, the Detroit-based company said Wednesday. Raw material costs probably will be a $1 billion headwind -- roughly double GM's previous expectation. The carmaker's shares are on course for their steepest one-day plunge in more than seven years.
The hit to GM's profit underscores the risk that Donald Trump's policies pose to automakers. While the U.S. president is moving to weaken fuel economy mandates, his tariffs on steel and aluminum -- and potentially on imported cars -- is undercutting what was shaping up to be a near-record year for an iconic American company that weeks ago was riding high on a $2.25 billion investment in its autonomous-driving unit.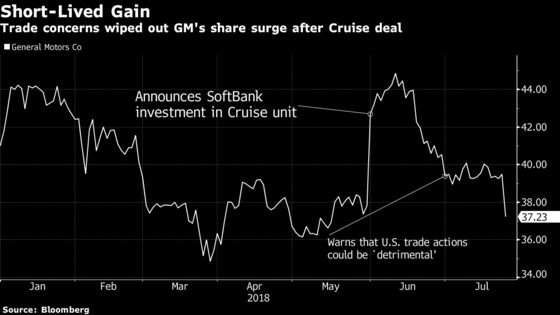 GM had increased profit three years in a row, a streak punctuated by the record $6.62 a share earned last year. Record income in China, market share gains at home and strong results at its lending arm were positioning the company for more growth until those gains were spoiled by the surge in steel and aluminum prices linked to the U.S. slapping tariffs on the metals in June.
"Our execution continues to be strong," Chief Financial Officer Chuck Stevens told reporters at GM's headquarters. "We expect some of these headwinds to continue in the second half."
GM shares dropped as much as 8.2 percent and were down 7.6 percent as of 11:01 a.m. in New York. That puts the stock on pace for the biggest decline since November 2011.
"Trade remains a major overhang" for automakers, Brian Johnson, an analyst with Barclays Plc, said in an interview with Bloomberg Television.
Shares of GM and Fiat Chrysler Automobiles NV, which also lowered forecasts, extended their slump after the Washington Post reported that several of Trump's senior economic advisers believe he plans to impose a 25 percent tariff on almost $200 billion of autos later this year, citing three people briefed on discussions. Ford Motor Co., which reports earnings later Wednesday, also fell.
GM's second-quarter earnings dropped to $1.81 a share, beating analysts' average estimate for $1.77 a share. Equity income from GM's China business, bolstered by soaring sales for Cadillac and its local budget brand Baojun, climbed to $592 million and pretax profit from GM Financial was $536 million -- both records.
Worldwide vehicle sales fell 12 percent in the three months ended in June to 2.06 million, the lowest since the third quarter of 2010. Deliveries were flat when excluding Europe, a market the company abandoned by selling its Opel and Vauxhall brands to France's PSA Group last year.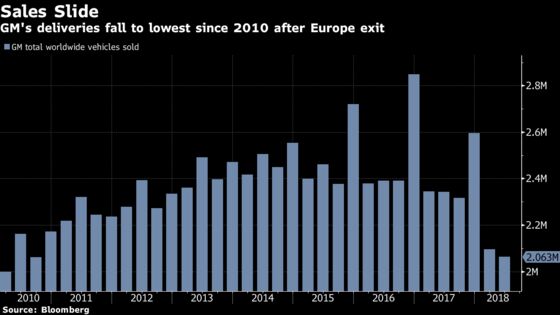 GM said the introduction of its all-important Chevrolet Silverado and GMC Sierra pickups are still on track, with initial deliveries of the redesigned full-size trucks starting early next month and arriving in showrooms in earnest in the fourth quarter.
Trump's tariffs aren't all that's eroding GM's profit. The automaker said that net revenue sustained an $800 million hit in the quarter because consumers bought a less-lucrative mix of vehicles. A lot of that stems from the company's pickups being in the last year before a revamp, and customers are taking advantage of deals and buying less loaded models.
The weakening of the Argentine peso and Brazilian real also hurt revenue by about $100 million. Commodities other than metals also are getting costlier.
"Yes, steel and aluminum are being impacted -- as well as oil-based commodities, copper, resins, diesel prices," Stevens said in a Bloomberg Television interview. "Market forces" have been "much greater than we expected as we entered the year."