Freeport Falls After Raising Operational Issues at Grasberg Mine
(Bloomberg) -- Freeport-McMoRan Inc. fell after the world's largest publicly traded copper producer flagged operational challenges at one of its underground assets in Indonesia.
Harder rock and seismic events have complicated access to deep ore at Freeport's Deep MLZ deposit at its Grasberg mine, Chief Executive Officer Richard Adkerson said Wednesday. The Phoenix-based company, which has owned U.S. oil and gas assets, plans to use hydraulic fracking to help access the deposit.
"It's going to take some time and so we have reflected that in our plan," Adkerson said on the company's second-quarter earnings call. "It's not affecting the resource itself; it's just a question of starting it up and ramping it up."
To mitigate the impact, the company said it will extend operations at its open pit mine at Grasberg by six months, through the first half of 2019. However the difficulties will still result in lower sales at Grasberg in 2020: the company dropped its guidance to 800,000 pounds of copper, from 1 million previously.
"The fact that they knocked down guidance by 20 percent for 2020 was something we've had questions on so far this morning," Jeremy Sussman, an analyst at Clarksons Platou Securities Inc., said by phone after the call. While the company expects to make up some of that ground in subsequent years, there is more "visibility" earlier, he said. Wider concerns about a potential global slow down as a result of trade wars are also weighing on shares, he added.
Freeport fell 6.1 percent to $15.09 at 12:14 p.m. in New York. The shares have dropped 20 percent this year.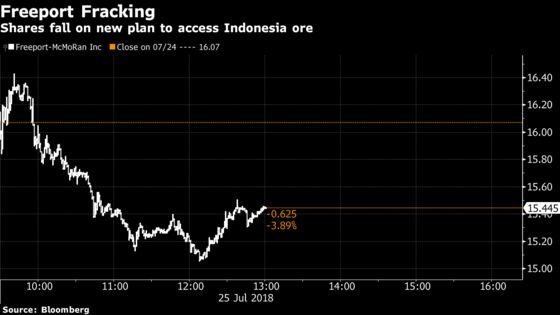 Earlier, Freeport said rising global protectionism hasn't hurt copper demand yet, but it's prepared to adjust production if it does. In the event of a recession, the company would "hunker down," deferring spending and cutting costs in order to remain cash flow positive, Adkerson said during the call. Freeport has experienced higher costs in recent months in energy, freight and sulphuric acid prices.
Despite a decline in copper prices since mid-June, amid concerns that trade tensions may affect demand, the company remains positive about the outlook for prices of the red metal. However, Freeport won't pull the trigger on expansion projects in the Americas in the current environment, he said.
Last week, global aluminum producer Alcoa Corp. lowered its 2018 profit forecast, citing headwinds from tariffs on the lightweight metal as one reason.
Copper futures averaged about $3.10 a pound in the second quarter, 20 percent more than a year earlier, but down 1.8 percent from the previous quarter. Gold futures rose 4 percent from a year earlier to average $1,309.29 an ounce in the second quarter.
Freeport reported second-quarter profit excluding one-time items rose to 58 cents a share. That beat the 52-cent average of 17 analysts' estimates compiled by Bloomberg as revenue rose and average cash costs were a penny less than expected.