Bond Shock May Trigger Stocks Slump, Australia's Magellan Warns
(Bloomberg) -- Magellan Financial Group Ltd. is hoarding record amounts of cash in its flagship global equities fund, citing the potential for a more hawkish Federal Reserve to set off routs in bonds and then stocks.
"We face an extraordinary cocktail of circumstances," Chief Executive Officer Hamish Douglass said in the annual investor report for the Magellan Global Fund. The combination "could be explosive."
There's a significant chance the Fed is forced to act more swiftly than market expectations to rein in inflation. That could trigger a rout in Treasuries and send global equities down between 20 percent and 30 percent over the next 12 to 18 months, he said. Cash now makes up 18 percent of the Magellan Global Fund, which counts Alphabet Inc., Facebook Inc. and Kraft Heinz Co. among its top holdings.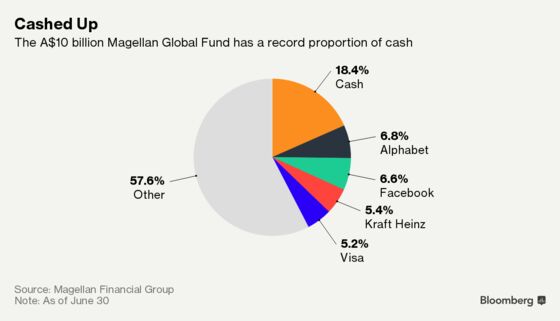 Asset prices are at or near record highs, and quantitative tightening by the Fed and the European Central Bank will remove liquidity from global markets, Douglass said in the report. At the same time, there's a "significant risk" that President Donald Trump's U.S. fiscal stimulus, following a long period of economic growth, could accelerate inflation, he said.
"We cannot think of a similar combination of circumstances in modern history," Douglass said.
Douglass, who co-founded the global asset manager in 2006, said the slide in equities would be triggered by unanticipated moves by the Fed to contain inflationary pressures, and a sudden jump in U.S. 10-year bond yields to above 4 percent. They're currently lower than 3 percent. Such a scenario is no less likely than a period of continued U.S. economic expansion without material hikes in wages or inflation, Douglass said.
"We don't know which of these two scenarios is more likely," he said.
Douglass has sensed danger in markets as far back as mid-2014, and has been increasing cash holdings since at least 2016. Other than a 2.2 percent decline in 2015, the Dow Jones Industrial Average has climbed every year since 2009. The index is up 2.1 percent in 2018.
Douglass, who oversees Sydney-based Magellan Financial Group's A$69.5 billion ($51 billion) of assets, said an all-out trade war will most likely be averted as the U.S. and its major trading partners agree to new trading arrangements.
"President Trump is probably most inclined to do a deal as no country, including the U.S., would benefit from a full trade war," he said.
Douglass concedes that he could be wrong.
"Given the uncertainties, caution is warranted," he said.