BlackRock Splits With Vanguard on BOJ Policy Meeting Action
(Bloomberg) -- Two of the world's biggest money managers are diverging in their views on whether the Bank of Japan will tweak its ultra-loose monetary policy as early as next week.
Japan's central bank may surprise investors with some fine tuning of its stimulus policy when it meets on July 31, according to BlackRock Inc. Not so, said Vanguard Group Inc., which reckons there's little chance of that happening.
"We think they might do something, but nothing that's going to upset the JGB market to any great extent," said Craig Vardy, BlackRock's head of fixed income, Australia, at a briefing in Sydney. The BOJ could allow the 10-year bond yield more scope to move from the zero percent that it has targeted, while another option would be to change the wording on a target of increasing holdings of sovereign bonds by 80 trillion yen ($719 billion) a year, he said.
Markets around the world were roiled Monday, after media reports suggested the BOJ is debating changes to its policy to mitigate the side effects on banks. The 10-year Japanese government bond yield soared by the most in almost two years while the yen rallied and stocks slid. Treasury yields and their European equivalents also advanced.
The moves came on the back of concerns that Japanese funds will start to bring home some of the $2.4 trillion they have invested in overseas markets from the U.S. to Australia, should domestic bond yields become more attractive. Any change to BOJ's stimulus would be the first since September 2016, when it began the policy of keeping the 10-year yield at zero percent.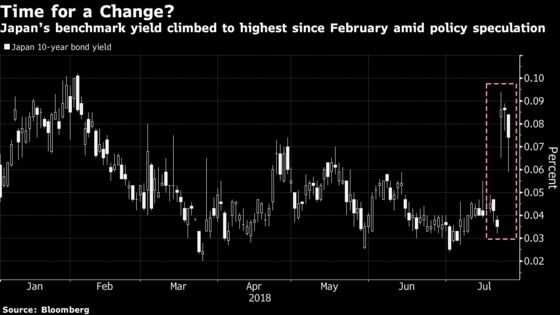 Rachel O'Connor, Melbourne-based portfolio manager at Vanguard Investments Australia Ltd. is less concerned. She sees it very unlikely that the BOJ would look to alter policy at its meeting on Tuesday given that inflation remains stuck well below the central bank's 2 percent target.
"There is speculation that the BOJ will tweak their yield-curve control policy to create a bit more flexibility around that 0 percent target on the 10-year yield," O'Connor said in an interview in Melbourne. "That's probably just another example of the market looking and hoping to see something come out of the BOJ to create a bit of volatility."
BOJ Governor Haruhiko Kuroda has been fielding more persistent calls to adjust policy to help mitigate the adverse impact of ultra-low rates even as stubbornly weak inflation suggests a need for ongoing stimulus.
"I know absolutely nothing about the basis for those reports," Kuroda said when asked about the speculation while he was in Buenos Aires to attend a meeting of finance ministers and central bank governors.
To be sure, even for Vardy, any change is likely to be more "cosmetic" as the BOJ would be concerned about spurring yen strength, which would dent their efforts, he said.
Read how the bond market is saying it's too soon for the BOJ to tweak
The yield on Japan's 10-year government bonds rose to 0.1 percent Thursday, highest in a year, as market speculated on the possible BOJ actions. The central bank may raise the threshold for its fixed-rate operations, while retaining its zero percent target, the Jiji newswire reported overnight, Katsutoshi Inadome, senior fixed-income strategist at Mitsubishi UFJ Morgan Stanley Securities Co., wrote in a report.
Vardy said there would need to be a meaningful jump in JGB yields to entice Japanese investors back home.
"You probably need to see significantly higher JGB yields than 20 basis points in the 10 year -- let's say hypothetically that might be where they go to," he said. "You probably need to see them well north of 50 basis points before they start to change their investment policies and profiles."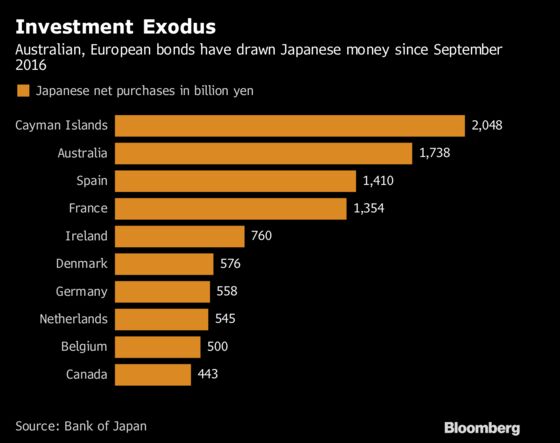 Still, the appeal for Japanese investors to buy foreign bonds has dropped given the increased cost of currency hedging, Vanguard's O'Connor said. A high hedging cost does make a case for considering longer-term domestic debt, she said.
"Demand for foreign bond yields is a lot less than what it used to be and I think that's why until now, you've seen JGBs very well bid, particularly in the super-long end of the curve," O'Connor said. "Your life insurers can now get a decent yield out of longer-dated JGBs versus what you were able to get out of foreign bonds hedged back to JPY."