Asia Is Hunting Ground as Bond Funds See Bargains in EM Rout
(Bloomberg) -- The sell-off in emerging markets is prompting some global money managers to hunt for bargains in Asian bonds and currencies.
The rout set off by the dollar's surge and exacerbated by escalating global trade tensions may have reached an inflection point, and buying opportunities are showing up in countries including India and Malaysia, according to BNP Paribas Asset Management. For Amundi Asset Management, regional currencies such as Indonesia's rupiah are starting to look attractive.
"We think we are at a turning point," said Jean-Charles Sambor, the London-based deputy head of emerging-market debt at BNP Paribas Asset, which oversees the equivalent of $664 billion. "Of course the trade war, high oil prices and overall risk sentiment are a threat but it is to some extent already priced in. We have been increasing risk recently."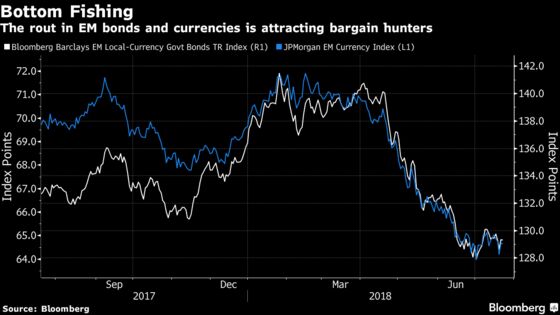 Investors are taking a fresh look at Asian emerging-market assets after the carnage that regional bonds and currencies suffered last quarter. A Bloomberg currency index measuring carry-trade returns from developing markets ended a five-quarter winning streak when it slumped 8.8 percent in the April-June period, the most since 2011.
The index has risen in July, suggesting that funds may be returning.
"We are becoming constructive after the excessive negative market performance," said Hakan Aksoy, London-based senior portfolio manager for EM local currencies at Amundi Asset, which oversees the equivalent of $1.7 trillion. "We concentrate on the countries that have not only better valuations but also the ability for higher growth and improving fiscal room going forward, such as Indonesia."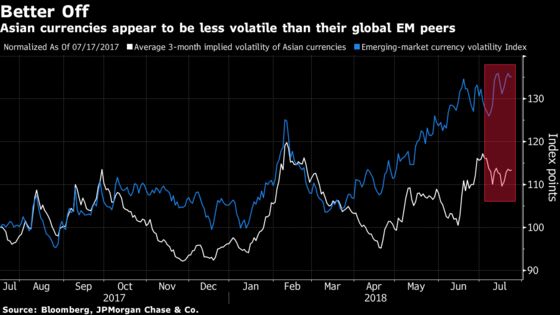 Net flows for Indonesian debt turned positive in July for the first time in four months, while outflows from Indian notes have slowed. Sovereign bonds in the two nations offer the highest 10-year yields among major regional markets.
Emerging Asian markets may also be deriving some comfort from China's efforts to bolster its economy. Regional currencies have advanced this week as risk appetite improved following China's stimulus measures.
BNP Paribas favors the currencies and bonds of Indonesia, India, China and Malaysia, Sambor said. Lower-yielding markets such as Thailand and South Korea may be vulnerable in case yields on U.S. Treasuries rise further, he said.
As trade conflicts dominate attention in global markets, Investec Asset Management Ltd. says that the U.S.-led tariff war may not be positive for the dollar, if history is a guide.
"A lot of the nervousness around Asia has to do with U.S. tariffs, China's reactions, and how Asia might stand to lose should exports/production take a hit," said Wilfred Wee, a fund manager in Singapore at Investec, which oversees $146 billion globally.
Yet, the dollar depreciated in previous periods when the U.S. imposed tariffs, said Wee, pointing to the 1970s to early 2000s when presidents including Richard Nixon, Ronald Reagan and George W. Bush slapped duties on imports to address a trade deficit.
"Could this not also be the case today?" Wee said.