Chile's Finance Minister Downplays Copper's Decline, Sees Prices Rebounding
(Bloomberg) -- Chile's Finance Minister Felipe Larrain downplayed the recent slump in copper prices, forecasting that they would rebound, underpinning growth in the world's largest producer of the red metal.
"The fall in the price of copper is concerning but we are looking at a forecast in the long-term," Larrain said at a summit of the Pacific Alliance trade bloc in Mexico Tuesday. "We expect the price of copper to recover."
Larrain is staying upbeat even as copper hovers around $2.80 per pound, well below the $3.12 he said it would average this year on July 10. Chile is the largest producer of copper in the world, with every one cent increase in the price of the metal over the year raising an extra $60 million in revenue for the government. The government had previously forecast copper prices would average $2.88 per pound this year.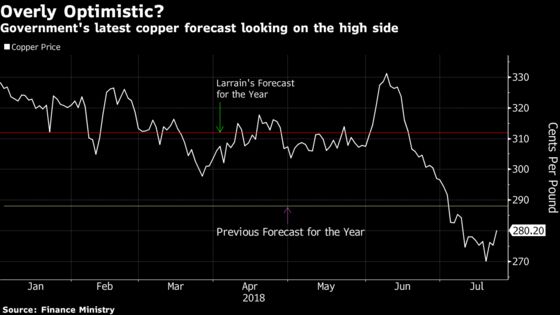 "The price of commodities are extraordinarily volatile," the finance minister said, while adding that the mining industry represents less than 10 percent of Chile's gross domestic product.
The government copper agency Cochilco cut its forecast for the average 2018 copper price today to $3 per pound, down from the $3.06 is estimated in April.
At the same time as he raised his copper forecast earlier this month, Larrain also predicted the economy would expand 3.8 percent in 2018, up from the Finance Ministry's previous estimate of 3.5 percent. Less than two weeks later, the International Monetary Fund followed suit, raising its forecast, citing a jump in business and consumer confidence this year.
"Despite the external situation and the price of oil, we have seen improved confidence," Larrain said.