Alphabet Gets an 'A' From Wall Street Analysts
(Bloomberg) -- Alphabet Inc.'s second-quarter earnings beat drew praise on Wall Street as several analysts lifted their price targets and said the company's investment strategy is paying off. Strong advertising growth, slowing traffic acquisition costs and opportunities in cloud and hardware sales have positioned the company for a strong second half of the year, according to Susquehanna. The shares rose as much as as 5.3 percent to a record high, boosting large-cap tech peers.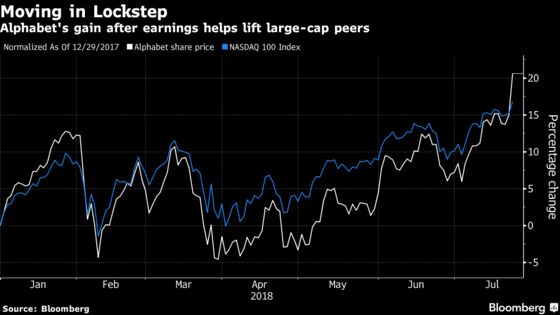 Raised price target to to a Street-high $1,500 from $1,250, reiterated positive rating
"The impressive sites revenue growth acceleration (the key revenue line item) shows the secular momentum for the ads business remains in full-force ... and the cumulative impact of numerous smaller ad optimizations across core search and YouTube appears to be driving noticeable growth and share gains."
"Our checks point to continued momentum for core search and YouTube" in the second half of the year. While Alphabet "remains focused on investing aggressively into growth, we see catalysts to potentially drive upside and offset incremental expenses, including further ad optimizations and continued YouTube out-performance."
Goldman Sachs, Heather Bellini
Raised price target to $1,450 from $1,350, reiterated buy rating
"Revenue upside and moderating growth in traffic acquisition costs (TAC) led to GAAP EPS upside."
"Unlike last quarter, we believe this quarter will hit on almost all areas, namely, strong topline momentum remains in both its core business but also Google Other revenue accelerated slightly with help from Cloud and hardware."
RBC Capital, Mark Mahaney
Raised price target to $1,400 from $1,285, reiterated outperform
"Revenue and operating income came in ahead of expectations, with growth remaining extraordinarily consistent, and TAC beginning to moderate."
"The company's investments in Cloud, Internet-connected Homes, and Autonomous Vehicles potentially set the company up for more years of premium growth & profits."
Morgan Stanley, Brian Nowak
Raised price target to $1,325 from $1,250, maintained overweight
The second quarter "featured first top- and bottom-line beat in three quarters" and an accelerating $85 billion Websites business, which speaks to Alphabet's "innovation, user/advertiser focus, and ability to build and monetize" around its user platforms.
Alphabet "is investing harder than ever to continue to extend its advantage," including adding 4,000 new employees and spending $5 billion in capital expenditures.
Pivotal Research, Brian Wieser
Raised price target to $1,080 from $1,050, neutral rating
"Beyond ongoing market share gains in digital advertising, we think that relatively easy comparables because of last year's YouTube advertiser boycott and incremental revenue from GDPR probably helped as well."
"There do not appear to be any signs that should cause a meaningful slowdown any time soon, as fines from the EC are not likely to hamper Alphabet's growth rate."
"We thought it notable that capital expenditures were up significantly, nearly doubling year-over-year."
Raised price target to $1,400 from $1,255, outperform
"TAC expense did moderate, as CFO Ruth Porat said in previous quarters it would, but by even more than anticipated."
Wells Fargo continues to see Alphabet as attractive in terms of revenue growth, strong cash position and "the traction it appears to be having across numerous business lines outside of Search, including YouTube, Cloud, Waymo, and recently 'graduated' companies: Loon and Wing."
Raised price target to $1,450 from $1,360, maintained buy rating
"Core search remains strong (led by mobile trends), and we continue to see large potential from 4 'call options' (YouTube, Cloud, hardware, Waymo), which should help drive the next" $100 billion in revenue.
Oppenheimer, Jason Helfstein
Raised price target to $1,450 from $1,350, maintained outperform
"We see multiple positives" as revenue growth excluding FX remains strong with "no sign of material slowdown in sites/network."
Oppenheimer also noted "strong qualitative commentary/client wins in Cloud."
GBH Insights, Daniel Ives
"Advertising and 'bread and butter' search revenues were healthy and a good barometer of potential strength heading into the rest of 2018/2019."
"YouTube advertising revenues continues to be a 'crown jewel' for the company and a major tailwind heading into the next 12 to 18 months."
Highly attractive rating, price target $1,300
Loup Ventures, Gene Munster
"AI, for the first time, is starting to have a measurable impact on results, as evidenced by paid clicks up 58% y/y vs consensus of 49%. This is because AI makes search results more relevant, increasing paid clicks."
"Our ongoing questions about potential regulation and, more specifically, the impact of the EU's recent decision were largely unanswered. We see little impact on Google's core business in the long run."
Alphabet "mentioned AI/ML a record 38 times, comfortably beating the previous record of 26."
The earnings call provided "the clearest examples yet of how the company is weaving AI into its existing products, as well as the corresponding expenses of doing so."
Bloomberg Intelligence, Jitendra Waral and Sean Handrahan
"Alphabet sales should continue to benefit from robust growth in mobile search and YouTube, while moderating traffic-acquisition costs (TAC) aid margin" in the second half of the year.
"New ad types in Google Maps and increasing investments in commerce line up longer-term revenue drivers."
"The impact from GDPR and the $5 billion EU fine appears minimal based on forward-looking commentary, yet TAC growth could come from changes that follow the EU antitrust ruling."