Alphabet Earnings Party Spoiled as Nasdaq Erases a 1.1% Gain
(Bloomberg) -- Putting too much faith in the U.S. stock market's direction over its first few hours is proving to be a mistake.
Case in point Tuesday, when gains fueled by Alphabet Inc.'s earnings faded four hours into the session. By about 1:30 p.m. in New York, the Nasdaq Composite Index had erased a gain of 1.1 percent. Among the biggest contributors to the retreat were Microsoft Corp., Netflix Inc. and Tesla Inc.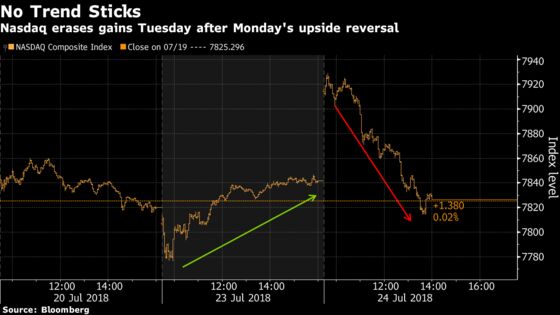 But a bigger culprit in Tuesday's decline was smaller companies. To wit, the Nasdaq 100, an index dominated by tech giants like Apple and Amazon, remained up 0.3 percent, while its equal weight version, which strips out market-value biases and gives as much sway to the smallest companies, was down 0.4 percent.
"Small-caps is a sector that's driven by expectations about strong growth," Peter Jankovskis, co-chief investment officer at Oakbrook Investments, said by phone."Some mega-cap names delivered that growth and some of the investors may have decided to switch over today."
Gauges of mid- and small-cap stocks compiled by S&P were falling by between 0.9 percent and 1.1 percent. The Russell Microcap Index fell 1 percent.
Turnarounds like today's have become a common feature for U.S. equities in July, though previous ones were in the other direction. After opening lower, stocks staged notable reversals on July 23, July 17 and July 2.
A catalyst in the fall, according to chart watchers, may have been the Cboe Volatility Index's decline to the lowest intraday levels in almost two weeks. The VIX touched short-term support of 11.66, sending a signal the U.S. stocks have become overbought, according to Donald Selkin, a New York-based chief market strategist at Newbridge Securities Corp.
"The market got internally too overbought on the highs, and today's rally earlier in the session was a signal the market was becoming overbought and unsustainable at current levels," said Selkin said by phone. "Tech was where most of the gains happened earlier in the session, some investors thought the rally has gone too far."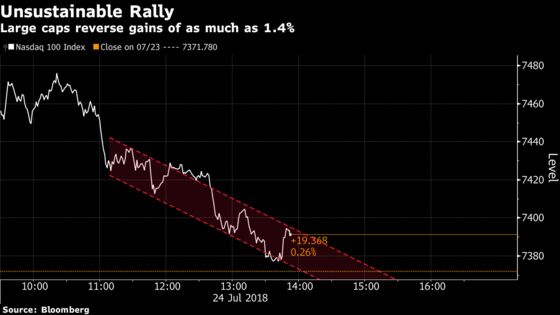 Netflix retreated 2 percent for the biggest loss among the FAANG group of tech megacaps. Google's parent Alphabet, which soared as much as 5.3 percent, the most in almost nine months, pared gains to 3.5 percent at 1:58 p.m. in New York. Amazon.com Inc. rose 0.8 percent after advancing as much as 2.1 percent earlier in the session.
The VIX Index rose 1.4 percent to 12.80, while the Chicago Board Options Exchange NDX Volatility Index rose 4.6 percent to 17.25.
Among groups showing losses were cyber security companies Zscaler Inc. and Okta Inc., cloud software maker Splunk Inc. and chip and chip equipment companies Advanced Micro Devices and ASML Holding NV. Hasbro Inc., which had its stock downgraded at Monness, Crespi, Hardt & Co, fell 4.7 percent, the biggest loss in the Nasdaq 100 Index.